Brian Chase: Indie Invention, Jazz Heart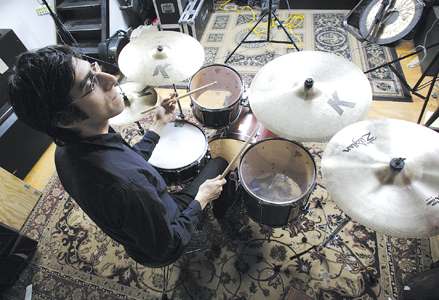 Brian Chase burst onto the scene at the turn of the millennium with the indie rock/garage punk band Yeah Yeah Yeahs. Chase first met vocalist/pianist Karen O while attending the Oberlin Conservatory of Music in Ohio in the late '90s. Then, in 2000, Chase found himself in New York, stepping in as the drummer with Karen O and guitarist Nick Zinner's budding group, which was originally an acoustic project. The addition of Chase spurred a movement into rock, and Yeah Yeah Yeahs was born.
Before long the band was playing support gigs for indie icons such as the Strokes and the White Stripes. In 2001 they released their self-titled EP and began touring internationally in support and headlining slots. In 2003, Yeah Yeah Yeahs released their first full-length, Fever to Tell, to ecstatic reviews; the influential weekly British music paper New Musical Express, for instance, named it the fifth best album of the decade. The band's follow-ups, 2006's Show Your Bones and 2009's It's Blitz!, were also well received, with the former named second best album of the year by NME and the latter named the second and third best by Spin Magazine and NME, respectively.
Chase brings the detail, swing, and thoughtfulness of bebop drumming to his rock playing, important ingredients that help set the Yeah Yeah Yeahs apart from their contemporaries. Chase has also shown great flexibility in his craft, always responding to the band's search for new sounds and grooves with experimentation and soul. Advertisement
Aside from his work with Yeah Yeah Yeahs, Chase has performed in numerous other rock and experimental settings, such as the band the Seconds, his duo with saxophonist Seth Misterka, and his own Drums And Drones project. Chase was featured in the July 2009 issue of Modern Drummer magazine.