Temim Fruchter of the Shondes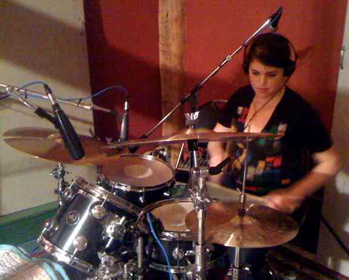 Let's get this out of the way right now: I don't have one of those perfect love-at-first-sight drumming stories. In fact, the closest I've ever come to being "born to play drums" was being gifted with a puppet version of the percussively inclined Muppet Animal when I was around two years old. But I was never that kid who drummed on pots and pans in the kitchen. Nor was I that kid who defied bedtime by playing John Bonham licks on my pillows. Nor did I ever once beg my parents for a drumkit.
But I always did have a crush on the drums from a reasonable distance. Ringo was always, inexplicably, my favorite Beatle. And I did always pay the most attention to whoever was sitting behind the Ludwig sparkle kit when I went to see live shows. So at some level, despite the fact that I didn't pick up my first 5A until I was twenty-six, I feel like I was always destined to play. My latent drum-love got its wings when two of my best friends cornered me back in 2004. Their band had just broken up and they were itching to start a new one, and had every last instrument covered except for the drums. "C'mon," they coaxed. "You know you want to learn how to play!" It began as a joke, but I slept on it, and realized that at the heart of it, I was and had always been a rhythm fiend, and could imagine nothing more energizing and rewarding than providing the rhythmic foundation for a band, making music with of some of my favorite people on earth.
Thus formed the Shondes in 2005—my full-time music project and the love of my life. We're an ambitious band, frequently on the road, constantly working on new songs, and always excited about expanding our musical horizons. We play violin-driven dramatic indie rock with a punk spirit and a pop soul. My drumming needs to be deeply groove-conducive while also boosting the band's frenetic energy—be it rolling like a fast train under an urgent verse part or thunder-booming on the toms through a melancholic chorus. My philosophy is to play as deeply in the rock-pocket as I can while also approaching the songs and kit somewhat playfully, looking for moments of drama and poetry in the rhythm. For inspiration in this department, I look to drummer contemporaries who bring the fiercely solid Rock while also bringing something fresh to the percussive table. Currently on heavy rotation: Brian Viglione, Brian Chase, Janet Weiss, Amy Farina, and Kim Thompson, but I'm listening to music constantly—it's by far my favorite way to learn. Advertisement
Being self-taught and kind of a drumming late bloomer has made my learning curve as a professional player in a touring band both extremely steep and extremely fun. On our first-ever tour, I barely knew my snare from my rack tom. I knew how to feel the heartbeat of a song, but my brain was bounds ahead of my hands and my playing was limited. I worked super-hard and put my heart into it and every show, I got a little bit better—freer of tension, more song-supportive, and more creative in my playing. Now, at the ripe old age of thirty-two, as a confident working musician, I'm starting from square one, re-examining my grip, drilling rudiments, and deepening my chops by making my playing more technically sound. And while it's been a wild ride, there's nothing quite as exhilarating as being a lifelong student of music, honing and sharpening my drummer voice with a little help from my friends as I go. I'm totally inspired and motivated by hearing about other drummers' journeys along the way—the people who didperfect that Bonham pillow solo circa age six, and the people who decided to take up jazz drumming at fifty-four. It's important to me to remember that, as musicians and lovers of rhythm, we all have a ton to learn from one another. And, dear readers, I do hope you'll check out our music! Our last album, My Dear One, is available now. We're currently hard at work on our third album (to be released on Fanatic Records), and we plan to tour, so look for us!
For more on Temim Fruchter and the Shondes, go to www.shondes.com.