Shane Aspegren of the Berg Sans Nipple
A warm hello to you all from the chilly Midwest. This is my response to a very kind invitation to write about some recent projects to beat enthusiasts everywhere, so thanks for reading.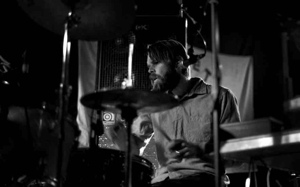 First and foremost, my duo with my French friend Lori Sean Berg is called the Berg Sans Nipple, and our third full-length is coming out on March 15 in North America, with the rest of the world to follow in early May. The record is called Build With Erosion, and I have to say that it's my favorite album that I've ever been a part of. Lori and I are both drummers with a fondness for electronics, analog keyboards, delays, sampling, and searching. The record has a lot of those elements mapped out over a combination of live drums and sequenced beats. It was a very long time in the making and was our first project together since I moved back to America. Needless to say, we're really happy to see its release in sight!
Lori and I also just finished up music for a wonderful documentary directed by Patricia Mortagne and produced by Arte France called Cet Homme-là (Est Un Mille-Feuille). It's in the sound mixing process now and will be playing at film festivals over the summer. Most of the music we used for the film was spontaneously made, recorded in our friend Antoine Gaillet's studio during some off days on our last short European tour around the ATP festival. It's our pretty skewed take on what you might imagine if there was a Spaghetti Western set in Normandy, France. We're moving our project more into the realm of music for film, and it's a great thing to help bring such beautiful projects to life.
Other recent stuff…I played drums on some tracks on the Bright Eyes record that just came out, The People's Key. It's widely available and a great record, so listen to that as well. Also, there is a pretty fun art project that I helped launch for the Berg Sans Nipple record. It's up now at www.changetheshape.com. Advertisement
I've also been working as always in many things not directly involving music, but I think that my upbringing of being immersed in music and playing drums lets me see the same kind of rhythm in it all. The past few days, for instance, I've been plotting our garden, and what involves more rhythm than allowing and helping things to work organically in their natural cycle?
For more with Shane Aspegren and the Berg Sans Nipple, go to www.thebergsansnipple.com or www.shaneaspegren.com. To hear tracks from their album Build With Erosion, go to www.team-love.com. Photo by Alex Carvalho.