Mark Goodwin of Sick Puppies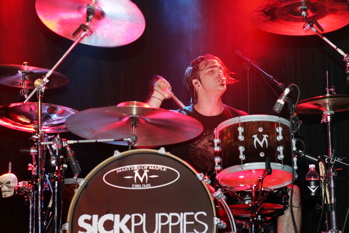 Hey, everyone! Mark with Sick Puppies here. A lot has happened with the band since the last time I blogged. In the past year we've been doing a mix of supporting and headlining tours with some of our favorite bands, including Shinedown, Sevendust, Papa Roach, Breaking Benjamin, Seether, and Nickelback. Watching these bands every night has taught me a lot about my playing and the work ethic it takes to be the best you can. Chad Szeliga from Breaking Benjamin is an unbelievable player and a dear friend who taught me a lot. I play very hard, and my kit is pretty spread out, with big cymbals and drums. Chad is a more technical player with much smaller and tighter drums. He helped expand my knowledge of posture and stick techniques as well as rudiments, most notably the six-stroke roll, which he incorporates a lot into his playing, and I do now as well. He's opened me up to seeing the more technical side of playing.
Last November we were asked to open for Nickelback in Australia and North America. This truly was an amazing experience, with an all-star cast of drummers including Chad, Berry Kerch of Shinedown, and of course Daniel Adair of Nickelback. And for anyone who is not a fan of Nickelback, just go to one of their concerts and I know you'll be converted in no time! They put on an amazing show, and Daniel Adair, who I think is the backbone of the band, is one of my favorite drummers. From the start of the tour we quickly became friends—he's one of the coolest and most down-to-earth dudes I've ever met! From day one he was so nice to me and would sit down and show me cool drum techniques. He has an exact replica of his drums that he uses on stage in a backstage dressing room, and he would let me use it every day—talk about being spoiled! One thing he taught me that I will never forget is the Swiss triplet, a flam hit followed by a right then a left stroke. He used this rudiment so fluently around the kit, and it sounds great! He showed me many different ways to use it and it really opened my mind to new ideas that I use a lot now. That tour was one of the most memorable times not only of my career but of my whole life. I'll never forget those memories and all that I learned in those few months.
Our current tour will take us well into the summer as well as a slot on this year's Rock On The Range bill in Columbus. We're supporting our new single, "Maybe," which is doing very well for us and crossing into new radio formats of Top-40 and Hot AC. With this new single comes a bigger a broader demographic, and I can't wait for what our future holds as a band. We've been touring on Tri-Polar for over a year and a half, and it looks like we're going to be out for most of this year. We just wrapped our second U.K. visit, and it went amazing! Touring this much brings a certain consistency to your playing, and we usually play a similar set every night, though every night is different—the stage, the room, the lights, and the crowd are all different. This is what keeps touring interesting and fun! Advertisement
We also try to keep it different by playing a fun cover song or familiar heavy riffs of the bands we love. As a three-piece band we're always learning from each other every night and always growing. It really does feel like we've been playing the best we've ever played, and I'm at the top of my game. We love our job, we love this band, and we love our fans. That's what keeps us going! Till next time!
For more on Mark Goodwin and Sick Puppies, go to www.sickpuppies.com.