Jacki Stone from Vains of Jenna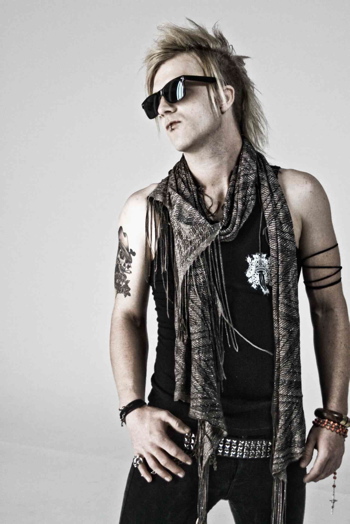 What's up, fellow drummers around the world! It's a great pleasure for me to write a blog here on moderndrummer.com and share my story with you all. My name is Jacki Stone. I'm twenty-four years old and the drummer of Vains of Jenna. I'm originally from a little town in Sweden. In 2005 I relocated to Los Angeles and I've been based out of there for the past five years.
The first time I had the opportunity to play drums was back in '97, when I borrowed my uncle's drumkit over the summer. I remember all the kids on the block wanted to come and jam at my home every day. It was total madness. I can't believe my parents could stand the noise that we were making all day. But that was such a great time, and I loved pounding those drums, even though it probably sounded terrible.
In '99 I joined my first band, which was with some friends from school. We played around the local area of our town. As we were still in school during the time, we never really tried to spread our wings outside the local town. We were just having fun, playing after school, killing some time in a pretty dead town. After playing in that band through out my early teens and high school years, we split up. In 2005, I, alongside my big brother J.P. White (bass), long-time best friend Nicki Kin (lead guitar), and our former singer, started Vains of Jenna. Nicki was also a member of my local band, so we have been playing together for forever. Advertisement
Fast-forward six years from the start of the band, we've released two full-length albums, Lit Up Let Down in 2006, and The Art of Telling Lies in 2009. We toured with numerous bands (Cradle of Filth, GWAR, CKY, Poison, Ratt, Wednesday 13, Crucified Barbara, Viking Skull, and more) in the U.S., Europe, and South America. In 2010, our singer at the time quit and we found our new voice of the band in Jesse Forte, who was from the local L.A. music scene. We released an EP, We Can Never Die, the same year, and as we speak we're ready to release our third album, Reverse Tripped. This is a full-on covers album, with fifteen great songs. Our first single is a remake of Cee-Lo Green's hit "F You." Next up we're going out on a two-month headlining tour, in May and June.
For more on Jacki Stone and Vains of Jenna, go to www.myspace.com/vainsofjenna.
Photo by Kirsti Anna Urpa.