Billy Ward: Deep Thoughts, Deep Rhythms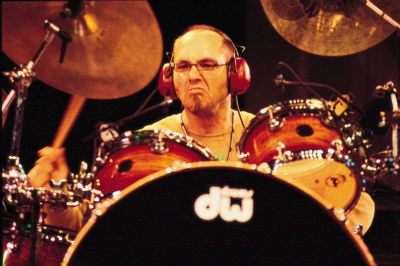 Billy Ward is a unique force in the drum world—a technician of the highest order who can bring taste and creativity to a huge variety of musical situations, a clear and enthusiastic educator, and a notorious drumming thinker who is always ready with an unusual but pragmatic take on the work of rhythm-making.
Ward began taking drum lessons in his native Cincinnati at age nine and was playing in local bands by the fifth grade. His taste for drumming—and music—was voracious, taking in everything from James Brown to the Who to Miles Davis. At age fifteen, Ward became the house drummer for a local gospel recording studio/label before going on to attend the Cincinnati Conservatory of Music.
After two years at the conservatory, Ward decided that he'd rather play jazz and rock than symphonic music, and transferred to North Texas State University. He quit NTSU in a week, but stayed in the Dallas area for four years, playing and practicing non-stop. Eventually the drummer moved to New York, where he's grown from a wedding band drummer to an in-demand session/touring drummer and clinician. Advertisement
Ward's performing and touring credits include B.B. King, Jim Beard, Bill Evans, Carly Simon, Robbie Robertson, the Knack, Yoko Ono, Ace Frehley, and Joan Osborne, and he has appeared on more than sixty film soundtracks. Billy has also received acclaim as a solo artist, with his debut Two Hands Clapping receiving a five-star rating in Modern Drummer magazine.
Billy, a Modern Drummer Advisory Board member, performed at the magazine's prestigious Drum Festival in 2000 and 2008 and has written a number of articles for MD's Concepts department. He's released two instructional DVDs, Big Time (2005 MD Readers Poll winner in the Educational DVD category) and Voices In My Head, as well as the book Inside Out: Exploring The Mental Aspects Of Drumming.