Steve Moore Checks Back In With MD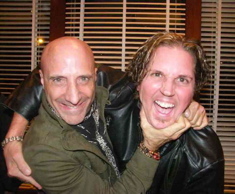 Hi everyone in MD land! Last year I had a video on YouTube titled "This Drummer Is At The Wrong Gig." I had struggled my entire life, when out of nowhere the video went viral. Within weeks my life had completely changed, and I was suddenly getting showered with the gifts I had worked so hard to earn. One of these was the opportunity to perform at a famous drum festival. I often wondered what it would be like to perform onstage with my favorite drummers. However, I never really contemplated how terrifying it might be—because I never really thought it would happen!
I had gotten a call from Ludwig, telling me Donn Bennett wanted me to fly to Seattle to perform at the 2010 Woodstick Drum Festival. The celebrity drummers at the event included Kenny Aronoff, Thomas Pridgen, Bryan Hitt, Alan White, Frankie Banali, Tony Coleman, and Jeff Kathan. Here's the catch: They wanted me to play a solo! "Are you kidding? You want me to play a solo in front of Kenny Aronoff and Thomas Pridgen? Have you lost your mind"?
With no sleep, I step off the plane, and a driver is there to take me to the show. I know I'm in over my head, but I have no idea what to do about it. I just keep thinking, "These guys are going to tear me to shreds." As soon as I walk into the venue, Donn gives me a big hug. This only makes things worse, as I know I'm getting ready to let him down. Advertisement
At this point I'm trembling. The show is about to start, and Tony Coleman walks over to me. (I think he saw me shaking.) I explain to him that I've never done a solo, and I'm ready to have a breakdown. I was seriously in bad shape. Tony puts his arm on my shoulder, looks me in the eye, and says, "Nobody is here to judge you, nobody is here to laugh at you. We're all friends here." He gives me a warm smile and walks over to his drums. One by one, each celebrity drummer says basically the same thing to me: "We're all friends here." Sounds good…but I'm still not buying it.
The show begins. First up is Frankie Banali, then Thomas Pridgen. One by one, each drummer works the crowd into a roar. These guys are killing it, just as I knew they would. I can't believe I'm sitting here watching these legends in person. Suddenly, Donn announces my name. I just sit there—I have no idea what to play. Finally, I begin playing a simple cross-stick pattern. I just pray for the best and hope nobody laughs out loud. I realize this is the worst day of my life, when I suddenly drop a stick! I think to myself, "Are you serious? You just dropped a drumstick in front of these guys." I honestly thought I was going to cry. But as I glance to my right, I notice Bryan Hitt clapping for me. Then I look down front and see Frankie and Thomas smiling at me. At the end of the stage is Kenny Aronoff, giving me the thumbs-up sign, with a huge grin. All the way down the line, they're all right there with me, cheering me on. In my head I hear Tony Coleman saying, "We're all friends here."
It ended up being the most beautiful thing I've ever experienced. Only hours earlier, I was sitting on a plane shaking at the thought of having to play in front of these guys. But without them, I would have never made it. I was a drowning man in the middle of the ocean, and they all jumped in to save me. Advertisement
I yearn for the day that I may be the one to walk up to a nervous young player, place my hand on his shoulder, look him in the eye, and say, "It's okay, we're all friends here."
For more on Steve Moore, go to www.themaddrummer.com. For more on Woodstick Drum Festival, go to www.bennettdrums.com.