Paul Nicholasen's Rock 'N' Roll Fantasy Camp Experience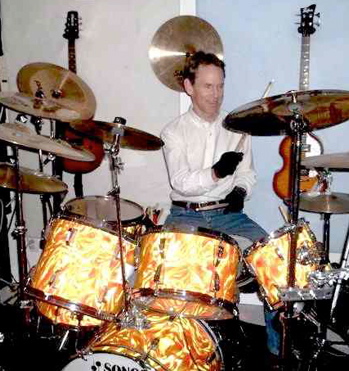 Hello, MD readers! I want to share my brush with greatness with you. I'm an amateur drummer who was lucky enough to be sent to David Fishof's Rock 'N' Roll Fantasy Camp in Philadelphia by my wife. The camp was held the weekend of October 22-24 and was a blast, but this tale begins at the Saturday night dinner provided for all the campers. Among several speakers—including MD's Billy Amendola—drummer Gerald Heyward treated us to a surprise appearance. Billy described Gerald as being able to do more with one bass drum pedal than most could do with two—little did I know—and Mr. Heyward gave a fascinating and heartfelt talk about his journey through the music business, from practicing as a child to the artists he has worked with recently.
After dinner everyone went back to Labar Studios to jam, and the most crowded room housed MD's jam with Mark Farner performing a phenomenal string of Grand Funk's greatest hits. Backing Mark were Mr. Heyward accompanied by his friend Brandon Mullen, who proceeded to sit down at the two drumkits present in the room and dazzled all with their virtuosity. The astonishing bass drum rhythms accomplished with single pedal were as Billy said.
When the jam session ended, Gerald immediately made the generous offer of taking me into one of the other studios and run through some of his techniques, which—even when slowed down for my benefit—were astonishing. A few minutes later Brandon Mullen walked in and sat down at the second kit, and the two of them blew me away with a private ten-minute explosion of their rhythmic abilities. I left with my brain overloaded from their jaw-dropping performances. Their talent was only exceeded by their incredible generosity in spending a few minutes with me—a drummer of questionable talent. I will be forever grateful to Gerald, Brandon, MD, and the Rock 'N' Roll Fantasy Camp. Advertisement
For more on the upcoming camps, visit www.rockcamp.com.