John "JR" Robinson: Web Exclusive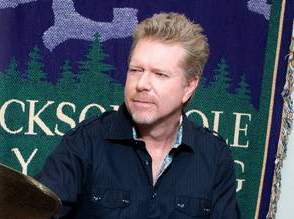 (Aprill 2011 Issue)
Story by Billy Amendola
Between his appearance on this year's Grammys and his upcoming performance at the Oscars, JR continues his conversation with MD about what a typical day in the studio is like, his early influences, his upcoming DVD, drum solos, reading charts, and taking a break from the studio to go on the road. Also, we hear from a few of the greatest bass players in the world on working with the studio legend.
MD: Growing up, what records did you listen to?
JR: I listened to the Stones—Charlie Watts. Of course I listened to Ringo and the Beatles, but I listened to the Beatles more in a musical context. The very first recording I remember really listening to was a Danny Kaye/Louis Armstrong record called "When The Saints Go Marching In." It was from the movie The Five Pennies [the Red Nichols story]. I had it on a 45—I think my mother had given it to me—and I just spun it and spun it because there was just something about the way it swung. Then my mom used to play me Glenn Miller and his big band, before she introduced me to listening to Buddy Rich. I realized there is a continuous forward motion coming out of Buddy. He was such a strong personality and drummer that it came out on any record he played on.
MD: Drummers are still trying to figure out what and how he did what he did.
JR: I know! His left hand was so strong, so you know his right hand had to be stronger still, but a lot of people don't give his right hand as much credit as his left because of all that showy stuff. He could swing, he could groove, he was innovative, and he was a personality—to me, a complete package. Even more today, you have to have the complete package. You can't just walk in silent and walk out—you have to have the whole nine yards going on. Advertisement
MD: You are one of the few drummers who have balanced studio and road work successfully.
JR: The longest tour I did was in 1980, headlining with Rufus & Chaka. We were out for about ten months straight. I came back off the road and recorded Give Me The Night with George Benson in one day, and then I flew back out. There was no adjustment whatsoever. Then I was musical director for John Fogerty in 1986, which was very strange because he was going through a transition, and he was also getting sued, so we couldn't play any Creedence tunes, which was really disappointing. But we had a nice little run during that Centerfield period.
Then I did Frampton Comes Alive 2, which was a great record. It was before I started using double kick pedal too. As I reflect back on it I wish I'd had the double pedal for that gig. But I was a purist in those days. [laughs] It was great touring with Peter—and with Barbra Streisand, which is a big orchestral gig and not necessarily soft music. Of course at times I'm playing brushes, but I'm bashing away most of the night, running a sixty-five-piece orchestra.
When I go out with David Foster we have several different artists traveling with us all the time: Peter Cetera—so we do all the Chicago tunes—Natalie Cole, a group called the Canadian Tenors, Ruben Studdard, and a young artist, Charice, who David and Oprah discovered. Advertisement
Touring every once in a while breaks up the routine. I've always been one to have maybe twenty things going on at once as well. Certain drummers who have been in rock bands through their whole career have only done one thing, and that's great for them. But I get bored. That's why I make records and why I'm delving into film and just keep moving forward.
MD: You've done quite a number of popular movie soundtracks over the years. Does it always involve reading charts?
JR: Yes, it's one hundred percent reading. And there are several reasons why I enjoy doing film. One, it's musically challenging every day. You never get stagnant. Musicians have a tendency to get stagnant if they don't push themselves. Doing film challenges my brain. I think as drummers we need to understand that the synapses in our brain, if they're not firing right, then you're not going to play well. You have to have that instantaneous nerve-ending thing going down through your spine from your brain. I know that's real ethereal talk, but it's true. If there's something that's interfering with that, whether it's liquor, drugs, or something emotional, that's going to mess with your drumming output. So when you're playing drums, you have to always stay in a meditative, relaxed state—and stay focused.
The charts for records aren't as complicated as the ones you'll come up against on a film score. With records, depending on who you're in there with, you just write your own chart. But most of my dates still involve reading. I worked on the movie The Hangover with Christophe Beck, and there can be some complicated stuff that may only last a minute and a half, but you go in there and nail it. Advertisement
MD: You're so well known as a groove drummer and not really recognized for drum solos, but I've heard you play some very technical drum solos, with a lot of chops. How do you approach soloing?
JR: Through my career I think my success has been all confidence based. I always had chops, even as a young kid. Now that I'm in my middle years, I let it flow. For example, this past November at PASIC, I was going to just play freely before I got into playing tunes—but then I thought that blowing solos for an hour is just ludicrous to me. It's like, why? It's a beautiful thing, but everyone knows where it's going.
MD: So you don't have a set concept in your mind?
JR: No. It's totally spontaneous. And sometimes it will blend into a sonic thing. It may not be anything that has to do with licks that you've practiced. I'm basically taking this chain and dragging it on the side of a concrete wall while I'm climbing up a flight of stairs—like some weird abstract concept that maybe works within the phrase of something. It's almost like I'm painting with oils—like actual physical art. That's kind of how I look at drum solos—and of course I always think about being musical.
MD: On the dance music you've played on, there's always so much consistency in the bass, snare, and hi-hat patterns. Are you conscious of that?
JR: Totally. But I've been playing now for about forty-six years, and these are things you take for granted—they just come naturally. I try to teach my students these concepts. I give them tracks and then I hear what they send back to me, and they are getting better. I hear them learning—but you can't teach confidence, and you can't teach time. Advertisement
MD: Do you vary your grip from loose to tight or pretty much stay the same?
JR: I think it opens and closes. If you're playing harder and you're barely holding on to the stick, that sucker can go flying out. I never grip the drumsticks tight, though, ever.
MD: You started out playing traditional and then changed to matched. Why?
JR: My left hand was ten years behind my right. When I first started playing I barely knew how to hold the sticks. And once I got to Berklee, I could never get the power. Our good friends Vinnie Colaiuta and Dave Weckl and Steve Smith still play that way—hard with their left hand.
MD: Your new solo CD, Platinum, is out now, and to be honest I was glad it wasn't a "drum" record.
JR: [laughs] Thanks!  Quincy Jones has rubbed off on me in a lot of ways. "The Beat" is straight. "You Understand" is a funk tune that goes into a really funky half-time vibe. "Move Over" is more of a rock thing. "In Your Eyes" I redid as a 6/8 ballad. "March Madness" is hip sounding; I wrote all those military cadences out, and then I added that whole hip drumset on top of it. I wanted this album to be more of a "producer" record for me.
MD: On your DVD you talk about time concepts. Can we touch more on that topic?
JR: I'm actually speaking of North American music, because we've been the icons for twenty-some years now. If you're playing somewhere else, it's going to be a different concept. I always focus with the bass drum exactly on the beat, no matter what kind of thing it is. And that's why when you start listening to old D'Angelo records, where they start shifting all the patterns or bringing the vocals back or totally screwing everything up, that makes the drums feel out of sync. But you see a lot of these young hip-hop drummers actually playing it that way, which is an interesting diversion of what the time concept is. But I'm a traditionalist and believe that you have to set the standard of where the time is on that particular song. I know if I do big band stuff, a lot of the cats want me to push ahead of the beats. Sometimes that's just not my thing. Advertisement
MD: What's a typical day in the studio like?
JR: For a 10 a.m. downbeat, I arrive at 9:30 and check out my drums. Usually the cartage company has already set up the drums and left. I retune the drums and adjust all the hardware. I have a pretty good idea of what we will be recording that day, so I select the correct snare drum to start the "getting sounds" process with the engineer. After we get the drum sounds, I go back into the control room and speak to the producer and artist to find out what direction to go.
By this time the rest of the musicians have arrived and are going through the same process. Once they have their sounds, we start running the music. At this point we usually come back to the control room and check out how we're sounding as a group. I'll make any adjustments then, like change the snare or alter my cymbals to better complement the song. Then we start cutting takes. All the musicians I play with are of a caliber where they know when the take is right. We are a team. Once we get the take, we celebrate!
MD: How about a typical day in your own Home Court studio?
JR: I arrive between 8 a.m. and 2 p.m. I go online and download the files. Sometimes people send files that are…how should I say…messed up! Once I import their files into Pro Tools HD, I put on another hat and become the engineer. Advertisement
I stress to all drummers that they have to become multifaceted. You have to learn all aspects of the music business, including the engineer's role. You need to learn about microphone technique and equalization of frequencies. You need to know about microphone placement and sound pressure. I was truly blessed as a young studio drummer; I was thrust into the studio world by working with the great engineers Roy Hallee, Bruce Swedien, Al Schmitt, and George Massenburg. I developed a great relationship with all the engineers I worked with. Because of this connection, the songs seemed to flow endlessly over the years. The engineers seemed to have an ability to play drums, even though I never heard one of them play.
Back to my studio, I then set up the song on my Yamaha DM2000VCM console. My engineer, Steve Sykes, and I have the exact same console, so whatever I record, he can mix. The learning curve on this console is like going to college for a couple of semesters! I assign the individual tracks according to where I like it on the console. I then get a very rough mix so I can write a chart.
At this point a lot of questions come up. I have a website that gives me ten-stave chart paper. I'll print out what I need for the song, and then I'll write a drum chart. This usually take me fifteen minutes or less. Next, I double-check my Pro Tools file and mix and make sure it coincides with my chart. On my console I have multiple mix settings, including playback settings. For example, if someone is in my studio, I can have him or her listen to a completely neutral mix while I can manipulate the mix to any degree to help me get through the song. This is not to say that both are synonymous, but there are times when I only want to hear certain elements. I then will assign a new click and record it. I always do this, so I know that the time will be controlled by me. Once I record the first take, I come back into the control room and dissect the performance. Usually the second take is the one. Advertisement
The World's Top Bass Players On JR
"JR is my other wife, and we are joined at the hip pocket! John has left his permanent mark on pop music, and playing with him is a total joy and any bass player's dream." —Nathan East
"I met John in the early '70s. I consider him a very close friend. He hasn't changed a bit—still nuts! He can play faster than a speeding bullet when provoked, able to interpret any piece of music in a single bound…it's Bird, it's Trane, it's Rufus—it's JR! John gives the definition of solid drummer a completely new meaning. He's been in demand for the past thirty years for a good reason—he sits inside the music and is always in total control. He has that uncanny foresight to know what's coming and play it perfectly despite never having heard it before. Taste, time, touch, and 'tude, its all there. John's unique, one of a kind. He makes any piece of music sound great, and he makes any bass player sound great—even me. I'm giving him a 10!" —Neil Stubenhaus
"John Robinson is one of my favorite recording drummers in the entire world. He's created magic time and again with his signature style and incredible drum intros—like on Michael Jackson's "Rock With You" from Off The Wall, which is my personal favorite of all time." —Alex Al (Michael Jackson: This Is It)
"I've worked with many drummers in my career, and JR is one of them. Just kidding! John is solid as the Rock Of Gibraltar, and when I see his cases in the studio, I relax and know it is going to be great. He is a bass player's gift and one of the all-time greatest drummers." —Lee Sklar Advertisement
"JR is thought of as a musician who gives one thousand percent every time he plays, and the great thing about this is that it can be heard in each song he participates in. I am proud to be welcomed to play music with him." —Abraham Laboriel Sr.
For more with John Robinson, check out his cover feature in the April 2011 issue of MD and visit www.johnjrrobinson.com.