David Moore Fulfills Dream Of A Lifetime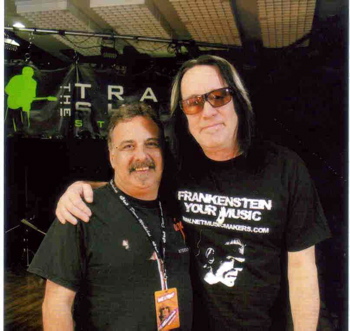 Hello, fellow drummers, I'm David Moore of Charlotte Harbor, Florida, a drummer/vocalist/guitarist who you can find in the Modern Drummer archives in the June 1992 issue. I'm flying home from my tenth NAMM trade show and a once-in-a-lifetime chance to be in a recording studio with rock legend Todd Rundgren.
Gigatone Entertainment CEO Mitch Koulouris and a staff that includes Tower of Power and Starship alumni (among others) have created a camp where you get to spend a few days being treated like a rock star and participate in the recording process of new album by the featured artist—an incredible opportunity for Todd Rundgren fans! Thirty lucky campers—as they called us—were treated to an unbelievable experience at the famous Track Shack studios in Sacramento, California.
It all started for me on a Monday morning. After introductions and a brief audition time, Todd chose seven people to replace tracks on a song from his upcoming release, (re) Production, which will feature fifteen hit songs that he produced for other artists over the past couple of decades. Todd re-arranged the songs, all with a focus on dance grooves. As he explained to us, although styles come and go, "Music that makes you dance is always in vogue." Advertisement
I auditioned for a spot as a drummer or a vocalist. There were six drummers, nine vocalists, and many guitarists, bassists, and keyboardists. Todd had the hard task of picking one drummer, one bassist, one electric and one acoustic guitarist, a keyboard player, and one male and one female vocalist. Ultimately, Todd found a section in "Walk Like A Man" for all thirty of us to do a unison shout vocal and handclaps—so, yes, we're all on the record! You can find more details about this and upcoming camps at the link below.
I must say that all six drummers were capable, talented players, and Todd had his work cut out for him in choosing only one. In the end, he asked me to be a singer on two songs, "Primetime" and "Barefoot Dancin'." New Jersey homeboy Sam LaMonica—a strong, rockin' player and a great guy—was picked to play drums. Sam played on the remake of Grand Funk Railroad's "Walk Like A Man." I would like to add that all the drummers were cool guys and supported each other, like drummers always do.
The three days were filled with the busy work of overdubbing instruments and vocals, and the nights were filled with great food, live jamming, and limousines. On the final night we were treated to an all-star concert by Todd Rundgren & Friends. And when I say "friends," I'm talking about the Todd Rundgren band of superstar players: Prairie Prince on drums, Kasim Sulton on bass, and Jesse Gress on guitar. Also performing at night and helping in the studio were Starship's Mickey Thomas, David Johansen of New York Dolls/Buster Poindexter fame, Brent Bourgeois and Larry Tagg of Bourgeois/Tagg, and filling out the lineup, Jeff Tamelier and Bobby Vega from from Starship and Tower Of Power. Advertisement
Did I mention that a pro film crew captured every moment for a web-based reality show on the making of the album? This gave an opportunity for Gigatone/MyRecordFantasy to closely follow the excitement we all felt working with pros of this caliber. A big thank-you to Todd Rundgren and the all-star counselors for treating us like family. Thank you, also, to Modern Drummer, and thank you for reading my blog, which was an honor for me to do. Keep on drumming, my brothers and sisters!
For more on David Moore, go to www.davidmooremusic.com. And for more on the Todd Rundgren recordings, go to www.myrecordfantasy.com.