Drummers, The Greats
Paul Wertico: Prolific And Profound With Metheny And Beyond
(From the June 2010 issue of Modern Drummer magazine)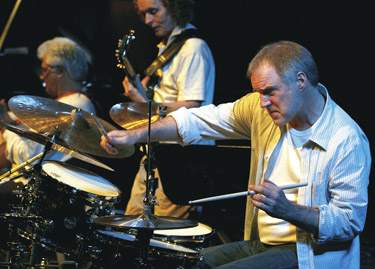 Paul Wertico first grabbed the world's attention as a member of jazz guitarist Pat Metheny's group, with whom he recorded ten CDs and won seven Grammys between 1983 and 2001. Other jazz greats Wertico has played with are Eddie Harris, Bob Mintzer, Sam Rivers, Ramsey Lewis, Larry Coryell, and Jeff Berlin.
While jazz drumming is certainly a staple of Wertico's workload, he hasn't been called "one of the most musical and well-rounded drummers in music today" for nothing. Paul has consistently displayed stunning versatility, whether as a member of East European rock band SBB from 2000 until 2007, touring in support of the Drifters, Rosemary Clooney, and Joan Rivers, or appearing on film scores and TV jingles. He has also led or co-led numerous groups, releasing a handful of critically acclaimed albums.
Wertico has also been active in drumming education for over forty years, both as a private instructor and in clinic and higher-education settings. Currently he is an assistant professor of jazz and the head of jazz and contemporary music studies at the Chicago College of Performing Arts at Roosevelt University; he is also a member of the percussion faculty at Northwestern University. In addition, Paul has published many educational articles, taught clinics and master classes around the world, and released the DVDs Fine Tuning Your Performance and Paul Wertico's Drum Philosophy. Paul is a member of Modern Drummer's 2011 Pro Panel.