Frank Jargiello of Ekotren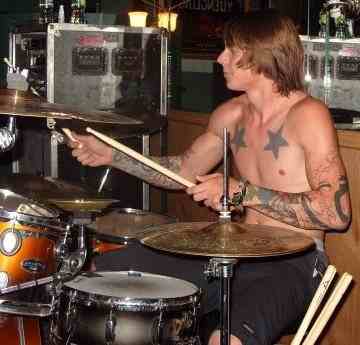 Hey, Modern Drummer readers. My name is Frank Jargiello, and I'm the drummer of Ekotren. This new year is going to be crazy for us. We have so much to look forward to, including coming out with a new full-length album, The Dead Of Night. We just finished recording a few months ago with producer Paul Trust, and I think this is the best material the band has ever written. Each of us threw our own style into the album, and it sounds amazing. I'm a metal guy, and I think the drums on the new album are going to catch some people by surprise. We all clicked real fast while we were in pre-production, and that helped us keep the ball rolling when we were in the writing process. I just can't wait for the CD to be released this coming January 25. I've been biting my fingers. Ha ha!
We're hitting the road again in January, on the Restore The Insanity tour with Ill Nino, A New Revolution, and Fashion Bomb. It's going to be a kickass tour. We're ready to hit the road and tear up the stage. Touring is absolutely awesome; I never want to stop. There's nothing like going from state to state with homies playing in front of people. Wouldn't trade it for anything. We hope we see everyone out when we're on tour, and remember, our new album comes out on January 25.
I would like to thank Modern Drummer for giving me the opportunity to write this blog. Hope to see everyone soon!
For more on Frank Jargiello and Ekotren, go to www.ekotren.com, www.myspace.com/ekotren, or www.facebook.com/EkoTren.