Chris Pennie: Get Good: Studio Sounds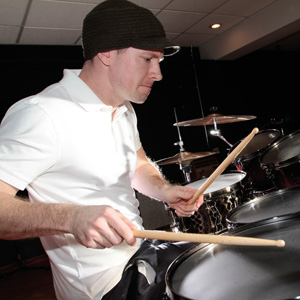 The March 2011 issue's "Get Good: Studio Sounds" feature concerns itself with helping you get the drum sounds that you have in your head onto the final recording. Among the experts we spoke to were Steven Nistor, who's recorded with studio heavies Danger Mouse, Steve Albini, and Daniel Lanois; T Bone Burnett fave Jay Bellerose; in-demand pop/rock and R&B drummer/producer/programmer Steven Wolf; and MD Pro Panelist/Coheed And Cambria drummer Chris Pennie. Here Chris gives us further insight into his approach.
What elements, such as drums and cymbals, head and muffling choices, mics and outboard effects, and your playing style, stay relatively constant when you record, and what is up for grabs?
It depends on the situation. When I roll into a session, I have a pretty good idea of how I want to capture certain parts for songs, but I'm never married to my ideas. Nine times out of ten the end result will be different anyway. The important thing is to know what the endgame and the desired result are, but also to have fun reacting to the changes that may come in achieving your end result.
To that end, I have certain cymbals or snares that I'll bring to the session that I know will sound good, but I'm also really into using something that isn't mine or that I haven't used before. I'll do this to see how it can either help or give me a different outlook on what I want to capture for the song—or just to hear what kind of sonic qualities it will produce. I usually tune my drums to feel and then see how they sound in the room. Once I'm feeling good about that and we start capturing basic tones, I like to sit with the engineer and try different drums, mics, mic positioning, compressors, or reverbs, or ride the room faders, etc. This isn't something we spend all day doing, just an hour or two per song to give us a great starting point on getting the vibe right. Advertisement
If a drummer had $1,000 to spend on gear to improve his or her ability to get fresh, professional-sounding drum and percussion sounds, what would you suggest?
I would spend the money on mics and a recording program. The technology is available, and there's plenty of information on the Web. All you need to do is investigate and make it happen. Some of the best recordings were done with a few mics and not the greatest gear—but it didn't matter; it was all about the vibe and the chemistry of the people in the room. That essentially is what you should be capturing.
What have you changed about your studio gear or philosophies most recently? Any "lightbulb" moments in the studio in terms of how to achieve a certain sound?
The more affordable the technology becomes, the more I feel the need to learn and then experiment. I learn something new every day, so if I'm on tour I get really excited to go home and try it. Recently I've been working a lot on mic placement and phase. These are the absolute basics of recording, but again there are so many ways of placing a mic and having that affect the sonic qualities of the drum. I've also been really into a less-is-more vibe on the kit. Just a pair of overheads, spot mics around the kit, and two great room mics give me a different sound from what I'd get if I were going completely direct. I love a slightly compressed room sound. It's great to hear everything sound together and uniform right from the get-go.
What recordings by other artists have particularly inspired you in terms of creative drum sounds?
There are so many, but here are a few:
Deftones: White Pony (massive tones)
DJ Shadow: Entroducing (sampling old beats and then adding some juice to them)
NIN: The Fragile
Dave Matthews Band: Crash
Green Day: American Idiot
Jeff Buckley: Grace
Led Zeppelin: any
Metallica: Metallica
Red Hot Chili Peppers: Blood Sugar Sex Magik
The Police: Synchronicity
Sepultura: Chaos A.D.
Tower Of Power: any
James Brown: any
Miles Davis: any
Zach Hill: Astrological Straights Advertisement