Drummers, The Greats
Buddy Harman: The Original Country Drummer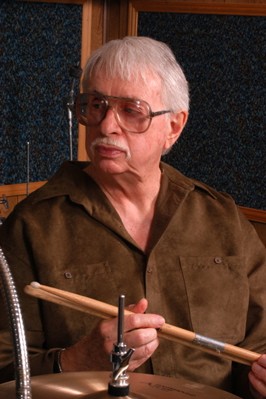 Before Buddy Harman, there was no drumset on country music recordings. A true groundbreaker in the annals of drumming, after opeing up Nashville to the concept, Harmon went on to make nearly 20,000 records, including a plethora of hits with nearly every major artist of the genre.
Harman grew up in Nashville and was influenced by his parents, who both played in a band. As a teenager, working at a movie theater, he managed to buy a set of Slingerland drums and put together a high school group. With Gene Krupa and Buddy Rich as his two primary influences, Buddy enlisted in the Navy, playing at each base. Upon his release, he enrolled in the Roy Knapp School of Percussion in Chicago for three years. He returned to Nashville in 1952 and became the city's first "country" drummer—very gradually. Even when he took the job at the Grand Ole Opry in 1959, they put him behind a curtain because drums were to be "heard"—and not very much—but definitely not seen. Buddy was there for two years and then got so busy in the studios, he had to give it up. He returned in the late '80s and worked the Opry until 2000.
Among the legends whose music Harman contributed to are Elvis Presley, Roy Orbison, Patsy Cline, the Everly Brothers, Johnny Cash, Brenda Lee, Roger Miller, Ray Price, Ray Stevens, Andy Williams, Perry Como, Chet Atkins, Dolly Parton, Willie Nelson, Kenny Rogers, Waylon Jennings, Patti Page, and Ronnie Milsap. The hits featuring his telltale playing include Cline's "Crazy," the Everlys' "Bye Bye Love," "Wake Up Little Susie," and "Cathy's Clown," Orbison's "Oh, Pretty Woman," and Cash's "Ring Of Fire." Harman died in April of 2008.