Darren Lyons — <i>Evil Genius</i>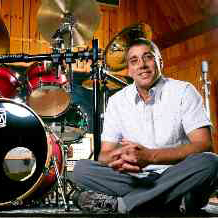 Hi, MD readers! I'm a drummer/percussionist/composer/producer based in New York City. Recently I released the Darren Lyons Group CD Evil Genius, which was produced by David Sancious (Sting, Eric Clapton, solo artist). Manolo Badrena (Weather Report, Joni Mitchell, Ahmad Jamal) performs on four tracks. Manolo and I also have a duo called Armed & Dangerous. My new electric group features Adam Holzman on keyboards (Miles Davis, Chaka Khan).
I love New York and I can't think of a place that could have better prepared me for being in the music business. My experience with the drums started in Jersey City, New Jersey, though, in my mom's kitchen with her pots and pans. I was four years old and she had the smarts to send me to music lessons. I vividly remember her taking me into the store above the Stanley Theater in Journal Square, which is still there. The man behind the counter pointed to an array of instruments and asked me what I wanted to play. I vividly remember pointing to a drumset. The next thing I knew I was in a lesson. As I walked towards the drumset, I noticed two drum pads. The teacher stopped me before the kit and said, "No, this is where we start before going to a set." I was disappointed, but continued. At twelve I received a U.S. Mercury (Japan) Blue Sparkle '60s set from my uncle. That's how it all began.
I continued following my interest in the drums and music in the Rochester, New York, school system, which was excellent when my family moved there when I was five or six years old. The people and teachers there introduced me to all types of music, especially electric jazz. My mom was a manager at a hotel near the airport in Rochester, where many of the top acts would stay. When she told them her son played, I usually got backstage passes, a chance to meet them, or an autograph. It was exciting to meet Alice Cooper sitting in his hotel room, see Grover Washington Jr. backstage at a college—I even spoke with members of Supertramp. I'm amazed when I look back on that time and how it prepared me for a certain comfort level with people. I don't get nervous or shocked when I meet all types of celebrities now. Advertisement
Selecting my drums has always been an ongoing process. I started with a very inexpensive kit but learned to do some difficult things using equipment that wasn't the best. My real passion is collecting snare drums. I have quite a few that are rare and sound amazing. My favorite is a 1920s 4½x14 WFL. A real catch, it sounds great and its previous owner kept it in impeccable condition. I saved the original calfskin heads, and the snares were a type of fat cord.
In high school, through college, and into my twenties, as I got deeper into jazz I became attracted to Gretsch kits and snares. I still own several. On my quest for my own sound, I discovered the Modern Drum Shop in New York City when I moved back to the metro area at age sixteen, around '83, '84. I became friends with owner Joe Cusatis, and I took some lessons with him. I had already begun to find all types of professional teachers in NYC. In the '80s so many of my mentors were accessible. I would run into top professional musicians all the time at clubs in NYC like Seventh Ave. South, Mikell's, the Bottom Line, the Beacon, Bradley's, and many more.
Recently I've begun endorsing the Precision Drum Company. We're designing two kits now. Stay tuned. My cymbals are Zildjian except for my flat ride with rivets. My Zildjians come from the factory, where I picked them out, although I'm not an official endorser. My stick choice for jazz is Pro-Mark's Michael Carvin model, and for heavier things I bounce between Vic Firth American Classic and Modern Drum Shop Joe Cusatis models. Advertisement
I've been lucky to record and perform with some of the best musicians in the world—I only dreamed I would be able to play with some of the guys I listened to growing up. Now I'm actually playing and recording with them—it's hard to believe sometimes. I know I'm blessed.
Thanks for reading!
For more on Darren Lyons, go to www.darrenlyons.com.