Antwan "Amadeus??? Thompson with Trey Songz
What's up, Modern Drummer blog readers? My name is Antwan "Amadeus" Thompson, and I was born in the Bronx, New York. I'm the CEO of Platinum Boy Music, Inc. Currently I serve as the music director and drummer for Atlantic Recording R&B artist Trey Songz. I'm also a multi-platinum producer signed to Sean "Diddy" Combs (BadBoy Entertainment Worldwide) as a BadBoy/Hitmen producer.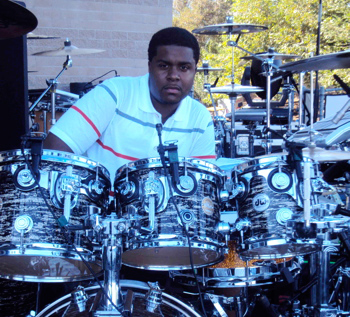 I've been playing drums for over fifteen years; I started in the fourth grade and never put the drumsticks down. I realized there was something special the moment I played drums for the first time. It became a passion, and I thought to myself, "If I keep going and studying my craft, no telling how good I can really get!" Here I am, years later, playing for today's biggest male R&B artist, Trey Songz. Dreams do come true!
To fill you all in on what I've been up to, we're currently on the US, OMG tour with R&B/pop artist Usher Raymond and new artist Miguel. It's going amazingly well. I've been working with Trey Songz for about four years now on numerous tours. One of the first was the BET tour with J. Holiday—then I did the BET tour with Mario and Day26. Following was the BP3 tour opening up for hip-hop Icon Jay-Z and hip-hop southern artist Young Jeezy. Then there was the Trey Songz Overseas tour, followed by the last Trey Songz Passion Pain Pleasure tour with Monica and R&B newcomer Dondria. In the midst of shows there have been televised appearances such as the 2010 BET Awards, BET's 106 & Park 10th Year Anniversary Show, Fuse TV, Jimmy Kimmel, MTV Unplugged with Trey Songz, plus more. As you see, we've been pretty busy on the road working hard. It's been a long road for me but worth every bit of it. Advertisement
In regards to my start, being a part of the school band truly helped my drumming. However, I was fully developed in church, the same way a lot of musicians that tour with your favorite artists are trained musically. I love all types of music: rock, jazz, gospel, hip-hop, and R&B. That's one of the main reasons why I feel I'm successful in the music business as a producer and drummer. You have to broaden your horizons and be able to appreciate all types of music.
For those who have not had the opportunity to hear my drumming yet, I'm mainly a pocket drummer. I definitely have chops, but most times I feel that I'm more effective when I lock into the groove, especially playing for audiences as large as 15,000 people. Normally the fans that sacrifice to see their favorite artists perform want to hear their favorite songs exactly as they hear them on the album. I do my best to give the people what they want, because with experience you learn it's not about you as the drummer—it's about the artist. That mindset comes with being disciplined. I also learned early on that being a musician can open up many other doors in the field of music. That's how I became a record producer. To me one of the most important parts to a track is the drums. It's the foundation. So I said to myself at the age of fifteen, "Why not try to become a record producer"? So I worked, and worked, and worked, and I'm still working towards perfecting my craft in production.
Here I am today, having been blessed to produce for over fifty artists in the music industry, performers such as 50 Cent, Diddy, Danity Kane, Lil Wayne, Keyshia Cole, T.I., Busta Rhymes, the Game, G-Unit, plus many more. I hope that my story and accomplishments light a blaze in the readers to work hard. As musicians you too can pursue and live your dreams.
I would like to thank Modern Drummer for allowing me to share my journey with you. I also would like to thank everyone in advance who will take time out of his or her schedules and daily routines to read about me! THANK YOU! Advertisement
To learn more about Antwan Thompson and Platinum Boy Music Inc., go to www.myspace.com/produceramadeus, www.youtube.com/amadeustv, www.platinumboymusic.com/2010/04/mtv-unplugged-trey-songz-edition.html
or www.platinumboymusic.com