Matt Greiner of August Burns Red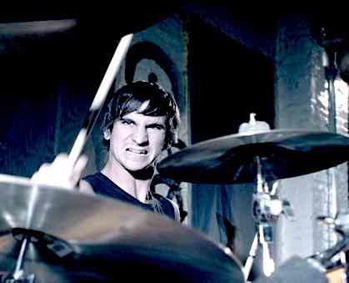 For me, drumming is like breakfast: You either like it or you don't. Much like breakfast, I want to play drums first thing in the morning and don't ever lose interest in playing throughout the day. Some folks think it's strange that I eat breakfast at midnight. Those same individuals probably deem it abnormal that I played beats on the piano keys at age ten instead of practicing note reading. My mom recently told me that she would get frustrated with me as a toddler for making so much noise, not with my mouth but with my hands. My dad encouraged her to let me go, to support my innate sense of rhythm. Instead of throwing food off my highchair as a baby, screaming and carrying on, I was slamming my little hands on whatever surface made sound.
Drumming has always been natural to me; it's my art form and my expression, it's how I think and move and function. Drummers have the luxury of creating and manipulating beats any which way they want. We all move to a rhythm, perhaps drummers just enjoy the manifestation of that beat more than others. I started playing beats on a snare drum when I was fifteen. I bought my first drumset when I was seventeen. I bought my first double bass pedal when I was eighteen and started August Burns Red shortly thereafter.
I have been a touring drummer for about five years and have never enjoyed playing drums more than I do now. I play about 200 shows per year with ABR and am so happy that God has me playing on stages across the world, inspiring others to enjoy playing drums and encouraging them to do it to the best of their ability. There is no longevity for anything if there's no passion at the helm keeping it alive. I'm passionate about music and creating songs; it's innate—it's a part of me.
I am currently touring with August Burns Red on the 7-week Alternative Press tour. We started in Detroit on October 13 and will play our last show on November 29 in Cleveland. I'm playing on my signature Truth custom drumkit, available this winter. We are making 100 of these all-maple kits and I'm excited to offer pre-orders in time for Christmas this year! Email info@TruthDrums.com for details!
I hope to see some of you on tour in the coming months! Thanks Modern Drummer for providing a magazine for passionate drummers.
For more with Matt Greiner and August Burns Red, go to www.myspace.com/augustburnsred.