John Riley : Master Player/Master Teacher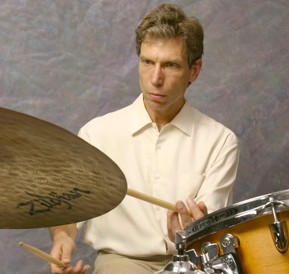 John Riley, one of the most respected drummer/educators of the past thirty years, was born in 1954, and began playing drums at the age of eight. At twelve Riley began playing in rock bands and was first exposed to jazz via the soundtrack to The Gene Krupa Story and Max Roach's 1958 solo drum composition "Conversation."
In 1971, Riley began studying with the legendary Joe Morello before going on to the University of North Texas. During his stay at UNT, Riley played, toured, and recorded with the One O'clock Lab Band—the highest level of nine big bands in the university's jazz studies division. With that band he recorded the album Lab 76, which was nominated for a Grammy in the Best Jazz Performance By A Big Band category.
In 1976 Riley moved to New York City and soon after joined the Woody Herman Band. While in New York, he freelanced with a wide array of musicians, including Stan Getz, Miles Davis, Dizzy Gillespie, and John Scofield. He also played with the Carnegie Hall Jazz Band and with the Vanguard Jazz Orchestra, which he is still active with. Advertisement
Aside from being a premier drummer, Riley is a world-class educator and clinician. He holds a bachelor of music in jazz education from UNT and a master of music in jazz studies from the Manhattan School of Music. He is a faculty member of the Manhattan School of Music and SUNY Purchase as well as an artist in residence at Amsterdam Conservatory in Holland. He has also taught master classes around the world and is the author of the well-received books The Art Of Bop Drumming, Beyond Bop Drumming, and The Jazz Drummer's Workshop. In 2009 he released the DVD The Master Drummer—How To Practice, Play, And Think Like A Pro.