Jeff Davis: Godfather Of Modern Gospel Drumming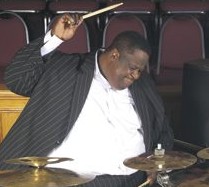 Jeff Davis was not allowed to do anything musical outside of church growing up, so he simply looked for every opportunity to play that his mother would approve of. Davis's dedication to the drums, and heartfelt spirituality, has led him to become one of the most recorded drummers in Gospel music today.
Davis had to be content to sit and watch his church's deacon play for years before he ever got the chance to try his hand drumming at a few worship services. From there, he graduated to playing for church choirs and local singing groups before he branched out with traveling choirs such as the Institutional Radio Choir from New York and Paradise.
Through tours of the East Coast and the Mid-west, Davis found himself gaining momentum and his big break came when Paradise played a concert with gospel pianist Richard Smallwood. A few weeks later Smallwood asked Davis to fill in on drums. Twenty-plus years later, the pair's relationship is going strong and, through Smallwood, the budding drummer has been able to seize opportunities to work with the likes of Vanessa Bell Armstrong, Vicki Winans, and John P. Kee among others. Advertisement
Davis's staunch commitment to the message behind Gospel music has led him to have song-oriented style with a deep pocket. At the same time, his flexibility with—and attentiveness to—all styles of music and his playing on tracks such as Smallwood's "Anthem of Praise" and James Hall's "King of Glory" have been recognized as major forces behind the shaping of "Gospel" drumming as its own cohesive style.
Nowadays, Davis continues to play with Smallwood and others while also working with friends on a project called J-Band, whose first album will feature arrangements of some of Davis's favorite Gospel hymns. Davis also collaborated with Gon Bops to produce the new Gospel Tambourine.