Pat Gesualdo: Drum Therapy Zone: "The New Drum Therapy Book???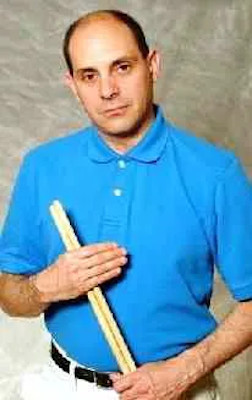 My new book, Drum Therapy, has just been released by Alfred Publishing, the world's largest music instruction publisher.
Drum Therapy is specifically designed for drum instructors to help children and adults with Autism, Dyslexia, ADD/ADHD, Tourette's, Asperger's, ODD, OCD, multiple sclerosis, cerebral palsy, and other disabilities to develop retention, coordination, fine motor skill, and physical and cognitive functioning.
Psychologists, occupational therapists, physical therapists, behavioral therapists, and teachers use the revolutionary techniques of Drum Therapy to help the special-needs population in schools, hospitals, mental health facilities, and community centers throughout the world. I specifically designed this book as a comprehensive self-help Drum Therapy resource training guide for drum teachers. It also functions as a weekly lesson take-home book for the student. A play-along CD for all the exercises is also included.
Even before the book came out, people wanted to know if Drum Therapy is music therapy. The answer is no. While I fully respect and support music therapy, Drum Therapy is c ompletely different. Many people use music therapy to help reduce stress through making music, which includes drumming and listening to music. Songwriting, lyric writing, and using music with imagery are all parts of the music therapy process. Advertisement
Drum Therapy is designed to be, and is completely different from, music therapy. Although music therapy and drum circles can be a great way to initiate team building, release stress, and bring people together, Drum Therapy is not based upon those objectives.
There are many drum teachers who prefer not to work with the special-needs population, which is totally fine from my point of view. I know that not everyone can do that. It definitely takes a specific personality to work with the high-functioning or severely low-functioning population. It can be very tough at times, no matter how many disabled people you work with. Whether it's drum circles, music therapy, or Drum Therapy, it's still good to know that drumming can help anyone.
There is much research and support for Drum Therapy, as well as the DAD Program, which I am extremely grateful for. Drummers, drum instructors, doctors, and teachers throughout the world are members of the DAD Program, and are Certified Drum Therapists licensed to provide Drum Therapy. Advertisement
As always, please feel free to contact me at info@dadprogram.org with questions or for further information on becoming a certified Drum Therapist.

Pat Gesualdo is an award-winning drummer, author, and clinician who has performed and recorded for various Columbia, Warner Brothers, Atlantic, RCA, and Paramount Pictures artists and special projects. He was nominated to Who's Who In America and was an associate voting member for the Grammy Awards. He is the author of The Art Of Drum Therapy. For more on Gesualdo and the D.A.D. program, go to www.dadprogram.org, www.myspace.com/dadprogram, www.zildjian.com, or www.myspace.com/patgesualdo.