Kyle Young of Maddam Ink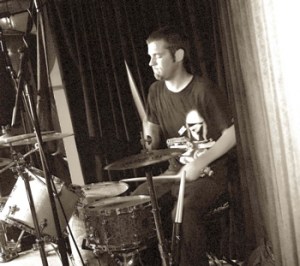 It all started in fifth grade music class. Everyone had to learn how to play 8th and 16th notes by tapping drumsticks on an old textbook, and if you had the guts to get up in front of the class, you could try yours on a snare drum (which meant that when you messed up, everyone could hear it). The teacher said I didn't suck so bad and that I should stick with it. So I did! I took thousands of hours of private lessons with local guys like Randy L and Dave Rutherford; I even had a one-on-one with jazz legend Steve Fydick.
A few years down the road I teamed up with Adam Burke, Matt Scott, and Steve Benecke to form Maddam Ink, and together we recorded our debut album, Inklination. It was the most awesome experience of my life. We tracked it in different rooms (which was weird at first) and cut overdubs as we continued. It's a strong ten-song album that will take you on a rock rollercoaster of emotion. From our mellow ballads ("Speak" and "Falling") to our heavy riff-driven hits ("Innocence," "Touch," and "Carry Me Home") you are sure to get the entire bang for your buck.
My favorite drummers are Buddy Rich and Travis Barker. (I once saw Travis play a set with one hand—it was amazing.) I'm not a drum snob; I'll play anything that sounds good, and I love different sounds and kits. I love to play music and will continue until both my arms and legs break! Advertisement
For more on Kyle Young and Maddam Ink, go to www.maddamink.com.