Ed Thigpen: "Mr. Taste"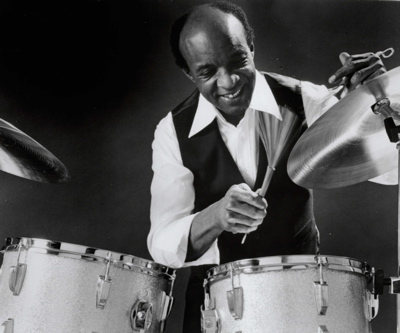 Ed Thigpen, an important element in the music of jazz luminaries including Oscar Peterson and Ella Fitzgerald, was known as "Mr. Taste." Thigpen was most noted for his brush technique and articulate sense of pulse and swing.
Thigpen was born in Chicago in 1930, the son of jazz drummer Ben Thigpen, who was highly regarded for his work with bandleader/bassist Andy Kirk. After his parents separated, Ed moved with his mother to Los Angeles, where he studied piano, sang in a church choir, took dancing lessons, and played drums in his school band. Thigpen's first professional gig was with Buddy Collette when Ed was eighteen, and he soon joined the Jackson Brothers show band. He then worked with Cootie Williams at the Savoy Ballroom in New York before becoming a drummer in the Army band for two years.
Thigpen then returned to New York and began working with a variety of artists, including Dinah Washington, Johnny Hodges, Bud Powell, Lennie Tristano, and Billy Taylor. During the 1950s he also recorded with Toshiko Akiyoshi, Ira Sullivan, Mal Waldron, Mundell Lowe, Eddie "Cleanhead" Vinson, Teddy Charles, and Blossom Dearie.
During that time, Thigpen became highly regarded for his brush playing. "Brush technique was very important then," Ed explained. "I always played brushes with the snares turned off to get a more harmonic sound coming through the open snare drum. I also learned that volume and intensity were not the same thing. Jo Jones used to tell me, 'Make it sound as big as possible. Not loud, but big, and as musical as possible.'"
In 1959 Thigpen joined the Oscar Peterson Trio, which included bassist Ray Brown. "Working with the trio gave me an opportunity to develop certain elements of my playing," Ed told MD in 1982. "I had a chance to develop a cymbal technique and a method of phrasing that simulated a big band situation. I learned how to listen to the melody and how to phrase with the improvised line to give the feeling that other things were happening. It was complementary, but it was still the time, which is what Oscar wanted in the first place."
After leaving Peterson in 1965, Thigpen worked with singer Ella Fitzgerald for a year. After moving to Los Angeles and working freelance for a year, Thigpen worked with Fitzgerald again from 1968 until 1972, when he moved to Copenhagen after marrying a woman from Denmark. He became very active in the European jazz scene and recorded with a wide variety of artists, including Toots Thielemans, Johnny Griffin, Horace Parlan, Helen Humes, Clark Terry, Kai Winding, Thad Jones, Benny Carter, Art Farmer, and Monty Alexander. In addition, Thigpen led his own groups and released a number of fine albums, including Mr. Taste, It's Entertainment, and Element Of Swing.
Thigpen was also active as an educator. His book The Sound Of Brushes is considered a definitive resource on the art of brush playing, and his Rhythm Analysis And Basic Coordination For Drums found favor with many teachers and students. He taught extensively in Copenhagen and gave countless clinics and master classes around the world. Thigpen was inducted into the Percussive Arts Society Hall of Fame in 2002.
Thigpen died on January 13, 2010 in Copenhagen, Denmark, at age seventy-nine.