Westin Glass of The Thermals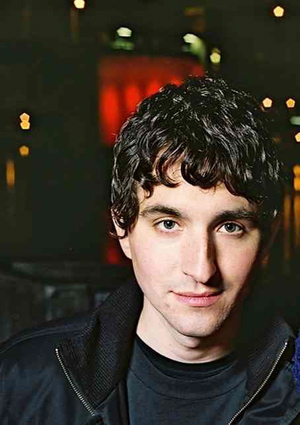 I thought I'd use this blog post as an opportunity to introduce you to a few great drummers who deserve recognition, and who you might not have heard yet. I hope they will be as exciting for you to hear as they have been for me!
Chris Common was the drummer for the awesome post-metal band These Arms Are Snakes for the last few years of their existence. He excels at playing weird, angular beats that strengthen and reinforce the song in bizarre, oblique ways. His tones are muscular and thick, and his feel is always driving and confident, but his composition often takes unexpected paths and denies the listener easy satisfaction in favor of a more complex relationship with the song. He's never showy or unnecessarily complicated. Chris is also an excellent producer—he produced the last two These Arms Are Snakes records, and I've worked with him in one of my previous bands. He knows how to record drums and make them kick your ass in a really satisfying way—not to mention his skill at recording everything else and mixing. I recommend you check out the song "Lucifer" on their 2008 record Tail Swallower And Dove (Suicide Squeeze). Chris plays at his most straightforward, flawlessly solid and heavy, assailing your cerebellum with repetitive patterns, while subtly shifting and rearranging things to keep it interesting. A badass.
Casey Dietz is the drummer for the Americas, as well as the Velvet Teen, a band I've expressed my love for in the past. No matter how good of a drummer you think you are, I promise you Casey is better. On an average Velvet Teen song, he's playing on at least three simultaneous levels: keeping the song going with an essential structure pattern, filling every nook and cranny with brain-twisting polyrhythms, and providing a lyrical accent structure that interacts with singer Judah Nagler's lyrics, telling the story of the song on a nonverbal level. Check out the song "Building A Whale" on their 2006 record Cum Laude (Slowdance). It will blow your mind. Advertisement
Michael Lerner is the mastermind behind the awesome indie-pop band Telekinesis! He plays everything on recordings; live he plays drums and sings. He has a classic, upbeat pop feel to his drumming that is undeniably fun. No matter what he is playing, it sounds easy and lilting. He knows how to always play the thing that your ears crave, making his songs super satisfying to hear while throwing in some unexpected twists and turns that usually turn out to be even more satisfying than the thing you thought he was going to do! I have a feeling you're going to be hearing a lot about Michael in the next few years. Listen to "Coast Of Carolina" on his self-titled record from last year (Merge). A perfect pop song that feels fresh and original.
For more on Westin Glass and the Thermals, go to www.myspace.com/thethermals.