Shadow Wilson: Unsung Hero Of '40s/'50s Jazz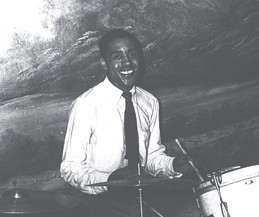 Though not a major influence in the same sense as Max Roach and Kenny Clarke, Shadow Wilson was nonetheless in considerable demand during the '40s, and he fit in admirably with all the groups he played with during his relatively brief career.
Wilson was born in Yonkers, New York, in 1919 and began his career with Frank Fairfax. By 1939, he was working in bands led by Lucky Millinder and Jimmy Mundy. In 1940, he performed with Benny Carter and Tiny Bradshaw, and then moved on to the Earl Hines band. However, Wilson is best remembered for his tasteful work with the Count Basie band, with whom he played in 1944. Wilson spent two years with tenor saxophonist Illinois Jacquet, won the prestigious Esquire New Star Award in 1947, and then returned to the Basie band as a replacement for Papa Jo Jones.
According to jazz legend, upon Dave Tough's departure from the Woody Herman band in '48, the musicians took a vote to determine who would replace Tough. Shadow Wilson was elected; however, pleased with the Basie band, he refused the offer. Members of Herman's band did eventually get their wish when Wilson joined up in '49, once again proving his ability as a superb big band drummer as well as a highly competent small group player. Advertisement
After leaving Herman, Wilson returned to Illinois Jacquet's group in 1950 and again in '54, with the years between spent with young piano sensation Erroll Garner. Late in his career Wilson worked with Ella Fitzgerald, and was also acclaimed for his performances with Thelonious Monk in the '50s.
Though Shadow Wilson died in 1959 at the age of forty, numerous examples of his recorded performances have been preserved. Among those recordings are "Queer Street" with the Basie band, Jacquet Jumps, The Fabulous Fats Navarro with Tadd Dameron, and assorted recordings with Lester Young, Leo Parker, and Stan Getz. Every Wilson performance clearly demonstrates the tasteful, unobtrusive playing of one of the jazz world's true unsung heroes.