Marc LaFrance of Bachman & Turner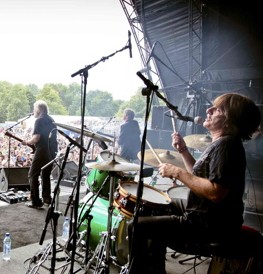 Hello, Marc LaFrance here. I am the drummer/background singer for Bachman & Turner. That's right, I am a singing drummer—I've been doing both for over forty years. You might recognize my name because I have performed on many albums over the years with such acts as Mötley Crüe, Bon Jovi, the Cult, Quireboys, Cher, and the Scorpions, just to name a few.
As part of the Bachman & Turner reunion, we've been doing dates in North America and Europe over the past three months. Last May we started with rehearsals in Winnipeg, Manitoba, Canada, where Randy Bachman, Fred Turner, and I are from originally. It has been an amazing journey so far. Performing at Sweden Rocks in Sölvesborg, Sweden, was a real blast; our set was on the main stage, just before Guns N' Roses. The High Voltage Festival in Victoria Park in London, England, was another rush—Jimmy Page was hanging out backstage.
We have to fly in for most of our gigs, so my drum gear has to be supplied. However, I bring my Ayotte Custom Woody snare drum, DW 5000 Accelerator Drive pedal, my monitor mixer, in-ear headphones, and of course my LP cowbell. (My road manager, Kevin Duffy, insists on this—he loves the cowbell.) I like playing to a click track to keep the tempos locked in, so I run it through my own mixer, which I plug into my in-ear monitor. Advertisement
The new Bachman & Turner album is out now, so pick up a copy. We will be continuing to do dates all over the world, so look out for us because we will be rockin' the planet.
All the best,
Marc
For more on Marc LaFrance and Bachman & Turner, go to www.bachmanandturner.com.