Steve Jordan: Web Exclusive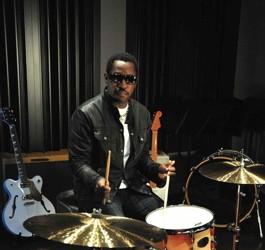 (from the October 2010 Issue)
by Michael Dawson
If you ask Steve Jordan who his favorite drummer is, be prepared to get hit with a never-ending list of influences, ranging from the obvious—like jazz greats Kenny Clarke and Philly Joe Jones and funk innovators David Garibaldi and Stephen Ferrone—to the more obscure, like Motown/disco session drummer Andrew Smith, who played on the Dramatics' "Whatcha See Is Whatcha Get," among many other tracks. What we have here are Jordan's thoughts on five drummers that he feels particularly passionate about, plus comments on a few extras that he couldn't help but throw in as we were wrapping up our interview for his cover story in the October issue of Modern Drummer, which is out now.
1. Carlton Barrett (Bob Marley)
I love the way Carly thought and played. He almost played backwards. He was such a revolutionary musician and an innovator. There's a bootleg of him playing with Bob Marley & the Wailers at the Apollo in 1976 that is unbelievable. Nobody had played like that. He had this incredible feel plus innovative fills. He always kept the music popping, alive, and fresh. Nothing he played was predictable.
2. Jack DeJohnette (jazz great)
Jack is a pure genius. When I first heard him on record, it was like, Oh my gosh, what is this? After you recover from years of trying to deal with Tony Williams and realizing that you'll never be able to do what he did, then here comes Jack. He plays like a tumbling dryer. He's always rolling and playing all this syncopation. There's so much eccentricity and beauty in his playing. Advertisement
3. Howard Grimes (Hi Records sessions)
Howard was a great Memphis drummer who split duty with Al Jackson on a lot of Al Green's records. Howard played on a lot of the funkier stuff, like "Take Me To The River." [Producer] Willie Mitchell told me that after he and Al developed that particular drum sound, sometimes he would have both of them play. Or if the song needed more gutbucket funk, Al would tell him to get Howard on the track. Howard's a bad dude.
4. Bill "Beau Dollar" Bowman
Bill played in a band called the Daps, which was one of James Brown's bands. The thing that was unique about the Daps was that they were a white band playing behind James Brown. Bill played some nasty stuff on "I Can't Stand Myself." It was some heavy syncopated funk going down in 1967.
5. Elbert Woodson (Otis Redding)
Elbert played with Otis Redding before the Bar-Kays became his backing band. The band with Elbert had seven horns, bass, guitar, and drums, and it was one of the most kicking bands of all time. Elbert had this energy and this openness that was ridiculous. Not only was his groove indestructible, but he also had this open sound that was popping but not overly syncopated. He was powerful but sleek at the same time. He plays on Otis's recording of "Papa's Got A Brand New Bag," which was produced by Al Jackson. Otis and this band appeared on the famous English television show Ready Steady Go! in 1966, and Elbert sounded amazing. When I first saw that performance, I didn't know what was going on, but I knew that was ultimately how I wanted to sound. He had the definitive groove. Advertisement
And a Few to Grow On
I started taking lessons when I was eight with a guy I knew as Mr. Matt. He taught me how to read. When I was about twelve, I started taking lessons with a guy named Joey Cal. He was very instrumental in my development. The first time I met with him, he sat me behind a set of blue sparkle Gretsch drums and I was freaking out, looking at all the mechanisms and everything. I thought I was going to get down. He asked me if I was really interested in doing the work to become a good musician. Of course, I was into it. When I got back there the next week, there were no drums in the room—just two practice pads. I thought I was going to have a nervous breakdown. But Joey told me this was what we'd have to do to get to those drums. So we went through Sam Ulano's books before we got to Joe Morello's books. Joey was a key player in my life.
When I was in junior high school, I had a music teacher named Ted Brown. He was a very classy man and was very supportive. When I graduated from junior high, Mr. Brown gave me a set of brand-new Zildjian cymbals. It was an incredible gift, and I've used those cymbals on a lot of records. He basically gave me those and told me to go out into the world. All of this happened before I met Freddie Waits, who became my mentor. But these three individuals from early on were very instrumental.
Two more cats I must mention are Floyd Sneed with Three Dog Night and Paul Humphries. Floyd was the first to play the upbeat hi-hat groove. You can hear it on the single "Black And White." "Mama Told Me Not To Come" is another great performance. I was a child, and I saw this black drummer playing these powerful grooves in this pop-rock band—it was very influential. Paul Humphreys was a great studio drummer. I believe he played on "Let's Get It On" by Marvin Gaye, but watching him on The Lawrence Welk Show every Sunday evening made me realize that maybe I could be a professional one day. He was the only black musician in the band. Great person and great drummer. Advertisement
There are a few more people I failed to mention. Stevie Wonder was a great influence. I was around him in the studio as a teenager, and it impacted me greatly. He's an amazing drummer. Just start with "Uptight" and the revolutionary "Superstition."Funky George Brown from the original Kool & the Gang was a major influence too. Check out Live At The Sex Machine and Music Is The Message. Buddy Miles had a profound effect on me as well. My friend Wilford Lammers turned me on to his playing on the Jimi Hendrix track "Machine Gun." Wow! "Them Changes" was a revelation as well. Hearing that he was a great singer in addition to being a great drummer was an eye-opener. I got to know him later on, which was heavy.
Mandrill was another band that I loved. Their drummer Neftali Santiago was kickin'. Sandy McKee from Cold Blood was a monster too. I was very much into the East Bay sound, and he and Garibaldi ruled! Bobby Ramirez from Edgar Winter's White Trash was bad. Check out "Cool Fool."And Dyke & the Blazers were a major influence. Of course, they had James Gadson on "Let A Woman Be A Woman And Let A Man Be A Man." But the drummer on "Funky Broadway" and "We Got More Soul," whether it was Rodney Brown, Willie Earl, or "Baby" Wayne Peterson, was tremendously funky. The Nite-Liters/New Birth drummer, Robin Russell, is a superbad dude, too! Check out "Afro-Strut," "K-Jee," and the legendary "Gotta Get A Knutt." If you couldn't play that in the hood, you got no gigs!
Freddie White's playing with Donny Hathaway and Willie Weeks was a revelation. By the time he joined Earth, Wind & Fire, it was a done deal—completely killin' it! On Curtis Mayfield's solo albums, Tyrone McCullen is a monster. Stone-cold funky. Speaking of great funky drummers that sang great as well, there's no better example than Peter Hoorelbeke [aka Pete Rivera] from Rare Earth. I saw them live in the Bronx when I was kid. Pete's a bad cat! And don't forget to listen to "Shake" by Sam Cooke, featuring Earl Palmer on drums, for the thrill of a lifetime! Advertisement
Did I mention Grady Tate? He's another major influence. I love his playing with Jimmy Smith and especially his work with Quincy Jones (Walking In Space and Smackwater Jack). Grady is a great singer, and I played with him when I was eighteen. That was a great education leading up to recording the Patti Austin album Havana Candy (I was nineteen at the time of those sessions).
Sonny Payne is my favorite big band drummer. He swung harder than anyone!
I can't believe I haven't yet mentioned Roger Hawkins. Some of Roger's greatest performances are Wilson Pickett's "Land Of A Thousand Dances," "Mustang Sally," and "Funky Broadway"; Aretha Franklin's "I Never Loved A Man," "A Natural Woman," and "Respect"; and the Staple Singers' "I'll Take You There."
I also have to mention the great engineer Niko Bolas and my guitar/drum tech Artie Smith. Niko helped me put my studio, Knotek, together and he's worked with me on a lot of projects since Neil Young's Landing On Water. Artie and I have worked together on just about everything and anything worthwhile. They're both a crucial part of my team. Advertisement
I think that's it…for the moment.