Kevin Kane of Bad City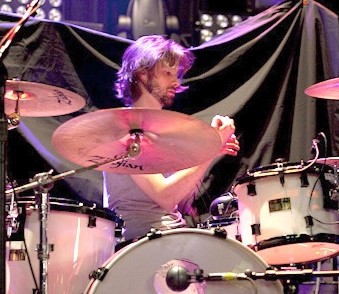 Hey, Modern Drummers! It's a privilege to be asked to contribute to this website, as I'm a longtime subscriber—MD has afforded me a truly incalculable amount of inspiration. I still remember the issue where Joey Jordison said he ran like fifty miles every morning to get his calves in shape for recording Iowa. I'd do the same thing, but I look like an idiot when I run.
So anyway, speaking of privileges (and inspiration!), as I write this, I'm sitting in the House of Blues in Ft. Lauderdale, Florida, listening to the Smashing Pumpkins soundcheck. And resenting Modern Drummer for making me miss SP's soundcheck. Ha! Right now Bad City is on the back end of an East Coast tour with SP and Kill Hannah. Had you told me when I was a teenager wearing needlessly complex cargo shorts that I'd be on the road with one of my favorite bands by the time I was twenty-three, I'd have either LOL'd or sh*t my pants, or probably both—or maybe one and then the other. So how I got here is a story worth telling—worth reading, maybe, but definitely worth telling!
My modest saga began in the basement of my old house, when I first sat down on the red Mapex five-piece my dad had just bought himself. I'm pretty sure there's footage of me playing along to "Maggie May," but I was nine or something, so I don't remember it. I kept messing around on that red Mapex for the next several years (I distinctly remember not being able to get through the latter half of "Freebird," which came true a second time when I started playing Guitar Hero II), but I didn't really get "serious" (relatively speaking) until middle school, which was when I started joining a bunch of school bands. Advertisement
Which I think will end up being the only advice I have to offer—if all else fails, if you can't find the inspiration to practice, join a bunch of bands. That's really my only piece of hard-earned wisdom. Well, that and never use the phrase "kickin' keyboard solo" when you're on a date. In sixth grade, in the band room, they handed us a sheet of paper that instructed us to select two instruments, a first and a second choice. I put percussion first and trumpet second. They said my ego wasn't big enough to play trumpet, so I wound up back in the percussion section, and from there I joined the jazz band. And of course I stuck with the concert band from sixth through eighth grade. This was right around the time when my friends were getting in trouble for saying the F word, just to give you an idea. One time our band director gave the cutoff right before my friend Ben said the F word. It was classic. We also used to throw mallets at each other from across the room. At around the same time my friend Rodney buried his trombone in the woods behind his house and switched to percussion, which was such a genius move.
High school's when I really went nuts—all four years, I was in marching band, concert band, jazz orchestra, jazz ensemble, pep band, and pit orchestra. And by then I was in plenty of extracurricular bands—a Primus-inspired power trio (that could also play side A of Rush's Moving Pictures, sloppily), an off-the-wall jam/cover band (with sixty-plus hours of recorded material and exactly one show under its belt), a jazz sextet named after a Magic: The Gathering card, a church band that I stayed with for two and half years, and an electronica duo. I spent virtually all of my free time in bands, and some of it playing Final Fantasy Tactics and StarCraft. I think the reason I found myself in all these bands is because I'm sort of shy, and being in bands has been a really great way to meet people and to have fun, as cheesy as that sounds. Actually, when I take a second to think about it, I've played in bands with basically all of my best friends. I'm pretty sure that if I hadn't started joining bands in college, I would've ended up making one friend. His name was Paul and I remember that he had a nice pea coat. I'm serious. One friend.
In college I joined the marching band, during which I decided to join one of the jazz bands, in which I met Alex Nauth (who's currently playing with Foxy Shazam!), with whom I played for a couple of years in a band called Sofapunch—ska with prog tendencies. We made an album in Chicago and played something like fifty shows in and around Ohio. Towards the end of the Sofapunch days, one of the guitarists, Tom, took me with him to form a band called Powerspace, with whom I recorded an EP that got the attention of Fueled by Ramen and landed us a record deal. The story ends up where I'm in this band called Bad City with my BFFs Josh and Max and Tom (aforementioned) and Jake, and I'm still trying to wrap my mind around the fact that I'm on the road with the Smashing Pumpkins. Every night I watch their set from the side of the stage, shaking my head and thinking "Hmmm…. Nope, still doesn't make sense." Advertisement
There it is, a pretty mundane story, no frills. I feel like I should cap off that sentence with a dash and then the phrase "just hard work," but really, it wasn't hard work—the drumming, anyway. (Lugging around that godforsaken hardware bag, on the other hand…!) Like I said, the only little nugget that I'll even dare to suggest is that thing about playing in a bunch of bands, if all else fails. I tried taking the serious route—I went to tons of lessons, I watched instructional videos, I owned the book Stick Control, etc.—but none of that really amounted to anything, compared to all the hours I accumulated behind the drumset, playing in bands. Lots of different styles, too! Actually, if I may offer a second piece of advice for all the younger drummers out there (let's say, in middle school or high school): Join jazz band! It sounds fishy, but it's true: Jazz will teach you things about feel, grace, and touch. It'll make you more solid, you'll be more "in the pocket," meaning, perhaps paradoxically, you'll rock harder. Combine that with the fact that the vast majority of bands will take a solid 4/4 beat over a shaky 17/16 polyrhythmic beat any day of the week, and you've got a pretty compelling reason to get into jazz, no matter the style of music you play. Why do you think Jimmy Chamberlin is the greatest rock drummer of all time?
Man, just mentioning Jimmy Chamberlin makes me wanna compile a list of my all-time favorite fills (so many in "Siva," "Snail," "Geek U.S.A.," "Jellybelly," "Cash Car Star," I could go on and on), but maybe the better idea is to save that for a future Modern Drummer blog. On that note, thanks for sticking with me in all my pointless long-windedness. Until next time, tide yourselves over by watching this video of a Vinnie Colaiuta solo at the Baked Potato, which to me is the greatest drumming video of all time. Dude plays smoother in 7/8 than I'll ever play in 4/4. www.youtube.com/watch?v=mAgfIF-QN3s.

For more on Kevin Kane and Bad City, go to www.myspace.com/badcitymusic.