Mayhem Week! Jeff Fabb of In This Moment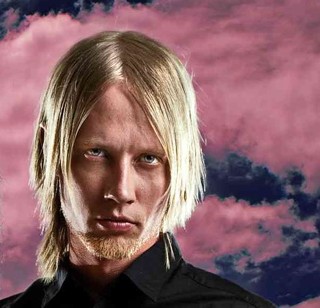 It's fun being on a metal tour—most of the bands on Mayhem this year we've toured with in the past, and it's great to see them again. The heat early in the tour was brutal—the sunscreen I put on my face was getting in my eyes and burning like I dumped gas in them. Also, no matter how many times I washed my hands, it felt like my sticks were gonna slip out and hit one of my band members in the head. I'm so thankful we have a tent for my drums. I was watching some other band techs try and handle cymbals that were sitting out in the sun for too long, and it looked like someone trying to pick up a iron pan that was sitting directly in a fire pit. You could almost hear their skin sizzling!
Back to sticks, Vic Firth rock sticks are the only way to go for me; they take a beating and keep on going. I just got a new ddrum kit before Mayhem. It's a retro green sparkle, and it looks so killer. I got to hear them from front of house because Brandon from the band Atreyu wanted to check them out. He line-checked them for me and I was stoked by what I heard. I just recently got an Evans endorsement, and I'm using the Onyx 2-ply coated on the toms, EQ3s on the kicks, and the EC reverse dot on the snare. I love these heads, and the toms sound awesome. They have that fat sound, but they also have tone. They're very durable, too. I've been pounding on them and can see that they'll last a while.
I ran into Chris Adler from Lamb of God during the second Mayhem show. He's an awesome drummer and a down-to-earth guy. We both endorse Meinl cymbals. I love Meinls, and I just got some new crashes from my man Chris Brewer. He sent me some big dogs! I got a 21″ Mb20 and a 21″ Byzance, and they sound so huge. It feels like you're taking over the world with those things! My 22″ Heavy Bell ride never lets me down either. That thing cuts like no other ride I've ever had. Art from Winds Of Plague has the same ride, and we were talking about how awesome it is. Advertisement
I always get worried about sharing a bus with another band—you just never know if you're gonna get along. Well, we lucked out this time! We're sharing a bus with Norma Jean, and they're extremely cool. I really get along with their drummer, Chris Raines. He's such a chill cat and a hell of a drummer. We were both asked to write for this Mayhem blog. He's actually sitting directly across from me, typing away!
It is an honor to be on this tour and to be able to watch some of the best drummers perform live. I met Ray Luzier from Korn, and he was rad, to say the least. He slams with Korn. I swear the guy never clams. He solos not once, but twice! The guy has serious stamina. It's great when you meet someone like Ray and he's just a down-to-earth bro, no rockstar attitude, just real. I would love to pass that vibe on, so any drummers out there who want to come and talk shop with me, please come by our merch booth after the show. Rock on!