James Childress of Lovedrug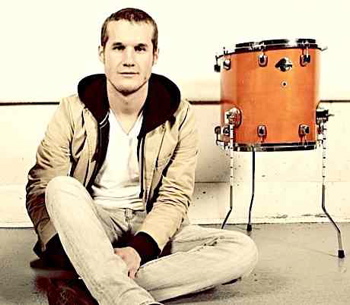 Hello, MD readers, my name is James Childress, and I play drums in a band called Lovedrug—four guys doing what we can to keep our hearts and souls in the music.
I was called to the kit like a preacher calling the adulterer to the pulpit. I grew up in a Pentecostal home, full of preachers and musicians. My uncle, who is the black sheep of the family, is responsible for me becoming a drummer. At the age of twelve, I saw him play drums for the first time with his band Over The Rhine. That experience inspired me to go back to my grandfather's church and pick up a pair of sticks. I taught myself the average 4/4 beat—kick on 1, snare on 2.
My uncle gave me an old Royce kit that sat in my garage for four years. At the age of sixteen, the opportunity to be home-schooled let me focus more on drums and less on education. I would sit and try and learn Nirvana, Ramones, Soundgarden, and a host of others. Then, at the age of seventeen, my uncle took me to see Radiohead. That right there sealed my fate. I knew that no matter how hard the road might be, I had to be a drummer.
After playing in a couple of local bands I found a home and second family in Lovedrug. Having three guys that I can connect with musically has made me a better drummer. I would encourage any musician to play with people who challenge you musically and encourage you to grow. Advertisement
Cheers for now!
For more on James Childress and Lovedrug, go to www.lovedrugmusic.com.