Gordy Marshall of The Moody Blues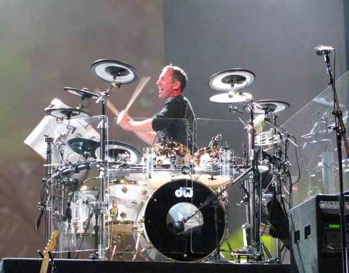 Hello, fellow Modern Drummer readers, I am delighted to be asked to add to the famous Modern Drummer blog. Although I read through the blogs from time to time to see what people are up to, when I was asked to contribute I read through nearly all of them, and was blown away with the eclectic collection of drummers, and the amazing tours, gigs, and educational facilities being written about in these pages. If you are a budding drummer, and all you ever did was to read the MD blogs, you would get a comprehensive overview of the entire drumming community in more or less one sitting. It's both entertaining and educational.
Twenty years ago I was booked as a session drummer for the Moody Blues, and have been asked back for every tour since then, which puts me in the "extremely lucky" camp of working musicians. I share the stage with the original drummer for the band, Graeme Edge, and we both play DW drumkits. Graeme has a 22″ bass drum, 10″, 12″, and 13″ toms, a 16″ floor tom, and a 14″ snare, and he uses Zildjian cymbals.
My kit consists of a 22″ bass drum, 10″, 12″, 14″, and 16″ toms, and a 20″ gong drum, affectionately known as "Big Bertha," along with a 14″ metal snare. Although I use a pair of 14″ Sabian hi-hats, the rest of my cymbals are electronic. I currently use the Roland TD 20, which means I have a hybrid kit consisting of acoustic and electronic instruments. The reason for this is, with so much of the monitoring these days being in-ear, and many of the instruments running direct, often the only acoustic sound onstage is the drumkit. This creates a nightmare scenario for the front-of-house engineer when trying to mix vocals, because instead of a full band bleeding through the lead vocalist's microphone, he has just a drumkit. Putting the drummer behind some of those big plastic screens can combat this, but I don't like that, as it feels so isolating. Instead I use screens up to the top of the toms, and then electronic cymbals so I feel part of the band. As long as you have a good in-ear monitor mix, it works a treat. Advertisement
The Moody Blues are a legendary band, and having sold seventy-five million albums, are enjoying a near unprecedented career spanning nearly forty years. We are currently between the American and U.K. legs of the 2010 tour, and I wanted to have a written record of my time with them to look back on, so this year I began writing a daily journal of about a thousand words for each day of the tour. I called each one a Postcard, and you can read them on my new website, which I just launched. It features twenty free video drum lessons, and of course all the usual accompanying info such as tour dates, photos, and the postcard blog. Enjoy: postcardsfromarockandrolltour.com.