Derek Roddy: Blast Beat Master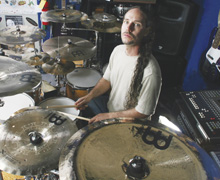 Many metal drummers are known for having wicked double bass technique and lightning-fast hands. A quick scan of Derek Roddy's videos on YouTube reveals a drummer whose technical mastery and creativity transcend metal stereotypes. Roddy makes ridiculously complex patterns look effortless (in part because he's ambidextrous), and where other drummers wear their effort on their sleeves, he keeps remarkable poise while blazing his way around the drumset.
Roddy was born on August 28, 1972, in South Carolina. He's been playing since 1977 and has been associated with many acts, such as Nile, Malevolent Creation, Divine Empire, Today Is The Day, Traumedy, Serpent's Rise, and Hate Eternal. His drumming fame has come primarily through word-of-mouth, his instructional and solo videos, and his viral YouTube clips. Roddy is credited with publishing one of metal drumming's first educational books, The Evolution Of Blast Beats, and was one of the first metal drummers to have his own website, which now acts as a popular forum for metal drummers that Roddy himself contributes to. If there was ever anyone to chat with about blast beats and drumming in general, Derek is the guy.
Recently Roddy has become an in-demand international clinician, supported by Meinl cymbals, Vater percussion, and Sonor drums, and has been a featured player at the Singapore Drum Festival, NAMM, Meinl Drummer Festival, PASIC, and, in 2008, at the Modern Drummer Festival. Advertisement
On his website (www.derekroddy.com), the drummer gives playing advice and openly admits his technical weaknesses and what exercises he woodsheds to improve them. In the December 2007 issue of Modern Drummer, though, Roddy reminded readers that it's music, not setting records, that inspires him. "I've never been one to practice my speed with a metronome. If I don't have other musicians to create the energy for the music, then there's no reason to practice speed for speed's sake. I try to practice a couple of hours a day and usually work on meter, sound, and consistency. I'll also isolate a weak area and work on that, which is usually my left foot."
While Roddy may be a metal drumming star, he's well-versed in jazz, blues, and straight-up rock drumming, making him a classic example of "a drummer's drummer." As it says on his website, "At the heart of a true musician there is a drive to better oneself, the will to control your playing, and eagerness to explore and sometimes expand the boundaries in music." Derek continues to live by his own words, and set bars for many contemporary drummers to reach for.