Vinnie Paul: Gearing Up
Exclusive ModernDrummer.com Interview
by Dave Previ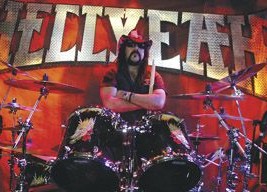 Hellyeah has been out on the road in support of its new record Stampede, which was released on July 13. This Texas-based band—featuring metal icon Vinnie Paul on drums—kicked off its tour in the U.S., spent a couple of weeks in Europe, and is taking the show over to Australia before heading back to the States in the fall.
In addition to Paul, Hellyeah includes singer Chad Gray and guitarist Greg Tribbett of Mudvayne, guitarist Tom Maxwell of Nothingface, and bassist Bob Zilla of Damageplan. All of the members put aside other projects in order to give the band their full, undivided attention. Hellyeah has one mission for each show: kick ass and take names.
As you may know, Paul's pile-driving drumming is as heavy as it comes. We were able to catch up with the legendary drummer the night Hellyeah played the Music Hall Of Williamsburg in Brooklyn, New York, with the specific intention if checking out his new ddrum Vinnie Paul signature series drumkit. These drums were created specifically with Hellyeah in mind. "They're big drums with a lot of bottom end and really good attack," Vinnie says. Advertisement
MD: Did you change your sound for this band?
Vinnie: With Hellyeah, I don't quite go for as much top end as I did with Pantera, because the music is a little more rock 'n' roll and not quite as machinelike. This kit has a little warmer sound, which complements the band better.
MD: I noticed you have triggers on your drums.
Vinnie: I never use them in the studio; that is always the real deal. But I've learned over the years that nothing beats the sound of triggered drums mixed with real tones coming out of a PA system. I still like the top end of the real drums because it's so much more real sounding then if you use just triggered sounds by themselves. Those can sound like a computer: "dat, dat, dat, dat, dat."
MD: So ultimately your live drum sound is in the hands of your soundman.
Vinnie: If you really care about your drum sound, you have to work closely with the sound engineer. You have to be able to convey what you want, because he might have other ideas that create a dull sound or one that has too much top end. It's really important to work as a team. Advertisement
For a close-up look at Paul's live kit with Hellyeah, check out the drummer's Gearing Up feature in the September 2010 issue of Modern Drummer.