Peter Erskine: Taste, Skill, And Artistic Ambition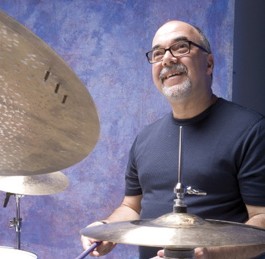 Peter Erskine, one of the most articulate, enduringly popular drummers of the past few decades, has played drums since he was four, graduated from the Interlochen Arts Academy in Michigan, and studied under famed percussion instructor George Gaber at Indiana University. He has appeared on over 500 albums and film scores, has won two Grammys (the first for Weather Report's 1979 album 8:30 and the second for the 2005 Randy & Michael Brecker album Some Skunk Funk), and has been awarded an honorary doctorate degree from the Berklee College of Music.
Erskine's professional work began in 1972 with the Stan Kenton Orchestra. After three years with Kenton and a two-year stint with Maynard Ferguson, he joined Weather Report. Alongside bassist Jaco Pastorius, Erskine helped create a legendary rhythm section that powered the jazz-fusion group to much of its success. Following four years and five albums with Weather Report, he joined the group Steps Ahead.
Erskine's other credits include Steely Dan, Diana Krall, and Chick Corea, as well as groups such as the BBC Symphony Orchestra, the Los Angeles Philharmonic, and the Bob Mintzer Big Band. He has also recorded with his own groups such as his trio with Alan Pasqua and the Trio E_L_B with guitarist Nguyen Le and bassist Michel Benita. Advertisement
Peter has composed music for theater, dance, film and television; The Los Angeles Drama Critics Circle chose his score for A Midsummer's Nights Dream as the Best Original Musical Score, and his music for The American Conservatory Theater's production of Twelfth Night was named Best Dramatic Score by the Bay Area Drama Critics' Circle. In 2006, he was the composer-in-residence at the Hilliard Ensemble's choral workshop in Germany. Currently he is professor & director of drumset studies at the Thornton School of Music, University of Southern California.
On top of it all, Peter has released four instructional videos and eight books, including Drumset Essentials, Vols. 1, 2, and 3, and he's taken top honors in the Jazz Drummer category of Modern Drummer's Readers Poll ten times.