Nick Jones of The Jim Jones Revue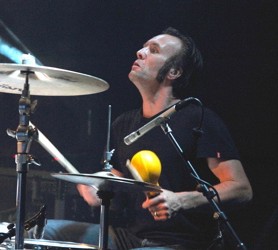 Hi, my name is Nick Jones and I play for the Jim Jones Revue. We're a five-piece, piano-driven rock 'n' roll band with loud guitars based in London. Our debut album came out at the end of 2008, and we've been busy ever since. We spent the early part of this year writing and recording our follow-up album, Burning Your House Down, with Jim Sclavunos from Nick Cave & the Bad Seeds/Grinderman producing. Then we went out to this year's SXSW in Austin to play a load of shows, then returned to tour the U.K. for three weeks.
The festival season is in full swing now, so we're playing shows all over Europe and they're going really well. Our busy schedule means we're back in the U.S. for three shows in New York, which coincides with the release of our debut album in the U.S.. Our next album will be released in the U.K. and Europe in September, so that'll mean further tours of the U.K., Europe, and Scandinavia until the end of the year.
It's a real honor to be asked to write this blog for MD, so here's a little bit about my history…. I grew up surrounded by musicians and good music. My dad was a bassist and my older brother Pim's a guitarist. You can definitely say music's in the blood! Since forming my first band at high school in Edinburgh, I've played in many different types of bands, some more successful than others. I've toured lots, recorded demos, singles, albums, and TV and radio sessions, made videos—and appeared in a rock musical! Advertisement
I moved to London to play in a band with my brother and then joined a band called Heavy Stereo. We signed a record deal with the now defunct Creation Records. I played in some other bands after that, including one with future Jim Jones Revue guitarist Rupert Orton, and that's when we realized we wanted to play in a no-holds-barred rock 'n' roll band. There was no one out there making the kind of music we wanted to hear. Rupert introduced me to Jim Jones, and we've been rockin' together ever since!
My kit has changed over the years in size and quality from cheap, low-quality mix-'n'-match kits with crappy cymbals through to my current vintage 1964 Ludwig Super Classic set with Zildjian K Custom cymbals. I have a 1970s Slingerland COB snare and a 1960s Ludwig 400. I love my Ludwig, but with our busy schedule it's getting trashed. So I've been considering having a custom-made kit for touring. I'm a Zildjian endorser, and I've been using a simple setup of 13″ K Custom dark hi-hats, a 20″ K Custom Session ride, and an 18″ K Custom Session crash. I also have a drumhead endorsement with Aquarian and recently started using Pro-Mark 5A Oak sticks.
I'm self-taught and not a complicated or technical drummer, I just like to play the song and keep it simple. Drumming is about keeping time, but it's also about knowing when not to play. In the Revue I play a lot of ride cymbal with lots of swing. We want people who come to our shows to dance and have a good time. Advertisement
You can listen to music in so many different ways these days, whether it's online, on TV, on the radio, or on your iPod, but you can't beat seeing a band live. You have to get out there and bring the music to the people. Listen to all kinds of music, as long as it's got soul. Keep hydrated—I drink powdered energy drinks that contain electrolytes, which I mix with water (our gigs are hot 'n' sweaty affairs), keep fit, and eat well. I ride a bicycle and I'm a vegetarian, and that works for me! Get some custom-fitted earplugs; they filter out all the damaging frequencies, so no more ringing ears. Carry spares—things do break just when you don't want them to—and only play with people you like and get along with…you will be spending a lot of time together.
Oh, and in the words of Spinal Tap's Viv Savage, "Have a good time, all the time!"
For more on Nick Jones and the Jim Jones Revue, go to  www.myspace.com/thejimjonesrevue.