Joey Cassata of ZO2 and Z Rock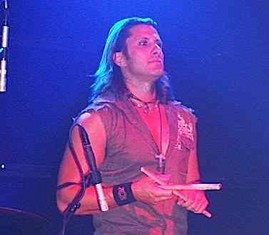 Hey, Modern Drummer readers! Thanks for taking time to read my blog. My name is Joey Cassata, and I'm from the band ZO2 and the TV show Z Rock. We're from Brooklyn, New York, and I'm currently on the road, promoting the band's third CD, Casino Logic, and the second-season DVD of Z Rock.
Z Rock is a semi-scripted comedy in the vein of Curb Your Enthusiasm. The premise of the show is that we play at birthday parties for little kids during the day in order to support our rock 'n' roll band at night. All of which is based on our real lives, if you can believe it. There are a ton of guest stars on the show, such as Dave Navarro, Dee Snider, Sebastian Bach, and Chris Jericho. The craziest thing about doing a TV show about our band is that most people don't think we're a real band—or even real musicians. But we are—we aren't actors! We're just a couple of goofballs from Brooklyn that someone thoug ht were funny and gave them their own TV show.
I started playing drums at five years old. My mom took me to see Kiss at Madison Square Garden, and I've never been the same. I got my first kit that Christmas and have been banging away ever since. I attended a performing-arts high school in Manhattan and studied with an instructor or two, but I absolutely think the best way to become a great groove- and song-oriented drummer is to play along with songs and bands you love. I think my style has a little bit of all of my influences growing up. Eric Carr from Kiss was a big one. Robert Sweet from Stryper to me is still one of the all-time great rock drummers. And then of course there's the king himself, Mr. John Bonham. Advertisement
I met the morons from my band in 2003. We released our first CD, Tuesdays & Thursdays, in March of '04, and after having only played about ten live shows together, we got the call to tour the nation with our idols, Kiss. It was a dream come true!
Since then we've released two more CDs, done tons of touring with some of our favorite bands, and gotten our own television show. It's been a fun ride. Before I sign off I just wanted to send out a huge thank-you to Modern Drummer for giving me the opportunity to reach out to all my fans and hopefully make a few new ones. Please check out some of the links below or shoot me an email to say hello.
For more on Joey Cassata, go to www.zo2.com, www.ifc.com/zrock, www.facebook.com/people/Joey-Cassata-Zrock/100000235054491, or twitter.com/Joeycassata.