Giuseppe "Gypsy??? Capolupo of Haste The Day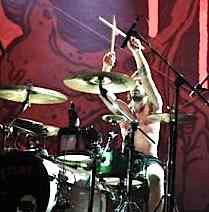 Hey there, fellow drummers! My name is Giuseppe "Gypsy" Capolupo, and I play for Indianapolis, Indiana–based metal-core band Haste The Day. What an honor it is to be featured on such a well-known website!
I've been drumming about fifteen years. I got my start while jamming along to whatever came on the radio while I was playing on my older brother's off-brand Walmart kit way back in the day. I took classical piano lessons, so after a few years of practice I was able to proficiently sight-read rhythms and basic jazz charts on the kit. Finally, once middle school rolled around, I was taking theory and basic kit lessons from a guy named Bryan Berchok for a year before he stopped giving lessons. He taught me a lot in a very short period of time, and I grew an infinite love for jazz and funk. To gain more perspective, I watched videos of amazing drummers like Jojo Mayer, Thomas Lang, Virgil Donati, Carter Beauford, Akira Jimbo, Benny Greb, Elvin Jones, Tony Williams, and Dennis Chambers, just to name a few. After being section leader of our high school drum line and first-chair drummer for the high school jazz band, I started drumming for a few local acts around Pittsburgh.
First I played with a Pittsburgh metal-core band called Demise Of Eros and got my first taste of out-of-state shows. After my departure from that group to pursue an education at Duquesne University in Pittsburgh, I started playing for a hardcore band called Once Nothing. I didn't even finish my first semester of school before leaving to tour full-time. After recording two EPs and a full-length that hit stores back in 2008 on Solid State Records, and almost four years' worth of full U.S. touring, I left to pursue some other interests in life. Advertisement
I couldn't stay away from my love for music, so after a year of flying under the radar, Haste The Day asked me to work for them as a touring drummer before I became a full-time member. Since May of '09, I've had the amazing opportunities to tour in Canada, South Africa, Australia, New Zealand, Colombia, United Kingdom, and Europe, as well as pick up endorsements from Mullins Custom Drums, Zildjian, Evans, and Pro-Mark. My first studio work with Haste The Day, Attack Of The Wolf King, is now in stores, as well as a special-edition album containing a DVD from the past year of our tours. We just finished up a headlining U.S. tour that included stops in Canada, with a fellow Solid State band, Mychildren Mybride, and our new Sumerian Records friends Upon A Burning Body. We're about to leave to join Warped Tour for the second half of the tour, with some more exciting plans for the end of the summer.
Thanks for reading. Hope to see you all on the road!
Gypsy
For more info on Giuseppe "Gypsy" Capolupo and Haste The Day, go to www.myspace.com/hastetheday.