Caitlin Kalafus of Kicking Daisies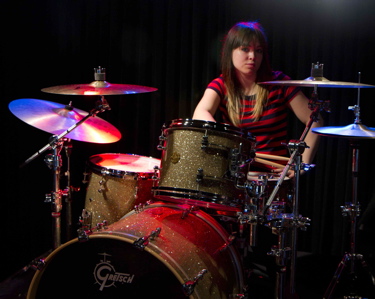 Hey, Modern Drummer friends! It's seventeen-year-old Caitlin Kalafus here to share a little about myself, and how I got into playing the greatest instrument in the world!
I currently play in the pop-rock group Kicking Daisies, but over my nine years of playing I've had many opportunities to play a wide variety of music, from rock and blues to jazz and jam band. It all started when my dad, a middle-school music teacher, brought home a drumset when I was eight. He was trying to figure out a basic beat and I sat there quietly watching him. After a while I asked him if I could try and when he gave me the sticks I immediately started playing a beat with kick on 1 and 3, snare on 2 and 4, and 8th notes on the hi-hats. My dad ran and got his guitar and we started to play Led Zeppelin's "Kashmir." It was an amazing moment, and the drumming bug bit me instantly. I became obsessed with drums, practicing hours a day and listening to every drummer I could find.  My dad is a huge classic rock fan, so that style of music was part of my growing up, and we would sit and listen to Zeppelin, the Who, Rush, and other bands for hours. He would point out the cool fills or different parts, and soon I was the one pointing out an interesting fills or beat to him.
When I was nine my dad was playing with his band on a Sunday afternoon and my mom took my sisters and I to hear them. Jimmy Januski, the drummer in his band, is a great guy, and he asked me if I would like to come up and play with the band. I was young and naïve and didn't think about it much, so I said, "Sure!" We played a Lenny Kravitz song and I played my one or two fills over and over. Looking back, I'm sure it was bad, but it was so much fun and when the crowd roared at the end, I knew that I wanted to do this more and more.
By the time I was twelve, I started playing in my first band, C.O.D. (Caitlin On Drums). It was a trio with my dad on guitar and a bassist named Chris Barber, who also sang. We would play anything from "Sweet Caroline" to "Red Barchetta" along with some blues, reggae, and funk tunes. It was great! We gigged almost every weekend, playing in local restaurants and bars—yes, I was twelve and playing in bars. People would walk in and hear the band, and when they saw me behind the kit they would freak out. I learned so much from those gigs and had to get better quickly. My playing grew so fast during those few years. I recently read a book by Victor Wooten that said if we could learn to play music the same way we learned to speak, we would learn quickly and get good fast. I was playing with experts and had no choice—either I got good quick or got embarrassed. Advertisement
During that time I entered the Guitar Center Drum-Off, and that's where I met Adrian Tromantano of the jam band the Breakfast. Adrian is an amazing musician who is schooled in every style and plays any instrument he touches. I started taking lessons, and my playing grew to new heights. Our one-hour lesson would go on for two or three hours. We would have so much fun jamming, listening, and talking music that we would forget about the time. Soon Adrian was inviting me to his gigs and asking me to sit in with his Phish-styled jam band music. I learned to listen and react to what the other musicians were playing, and it really opened up my playing. One of my most memorable experiences was when I was fourteen and Adrian's wife went into labor. Adrian called me and asked if I could fill his drum chair for the night. I packed my drums into my mom and dad's car, and off we went to New York to play a gig with no rehearsal. I knew the music from lessons and being a fan, so I was able to pull it off. It was one of the best musical nights ever!
In January 2007, I attended the NAMM show in Anaheim, and on a whim I decided I would give the "World's Fastest Drumming" contest a try. I was nervous because I didn't want to embarrass myself, but I figured it would be a fun experience. Well, to make a long story short, I ended up setting the WFD Female Feet record that still stands to this day. I know playing fast is not what music is all about and that groove and feel are the most important parts of playing, but setting the record gave me some big exposure and helped get my name out in the drumming community.
Over the next few years I continued to practice for hours and started getting calls from a lot of adult musicians. I was getting calls to play blues gigs, record on CDs, and I even got the opportunity to play with some of the world's best smooth jazz artists including Chieli Minucci (Special EFX), Ken Navarro, Jeff Kashiwa (The Rippingtons), and Nelson Rangell. Gigs like these are great because they're fun but also because they make me focus and work hard to be prepared for whatever might happen. Advertisement
Currently, I am playing in my band Kicking Daisies with musicians closer to my age. I learned so much from all the older musicians whom I've had the great opportunity to play with over the years, but now it's time for me to play with other kids who share my passion for music. Kicking Daisies is being produced by two-time Grammy winner Michael Mangini (not the great drummer of the same name), who has worked with everyone from Joss Stone and Smash Mouth to Dionne Warwick and the Jonas Brothers. Our music is real, and what separates us from the other "kid" bands is that we play all our own music. We recently played Bamboozle in New Jersey and are currently finishing up our debut album. An interesting fact about recording for the record is that we laid down the drum tracks in Philadelphia and I used the exact Gretsch drumset that Rick James owned and recorded the track "Superfreak" on. Also, the overhead mic we used in that session was the microphone that Aretha Franklin used to record "Respect." Talk about inspiring!
Look for us this fall as we set out on tour promoting the CD. I just have to say that the best part of playing in the band is sharing the stage night after night with my sister Carly on bass. We think so much alike that it's easy to play and get into the groove. I am blessed to have music in my life. I can't imagine doing anything else. When I'm not playing drums, I'm playing guitar or piano and writing for the band. Music is my life and my love, and without it I would be empty.
I am also blessed to be involved with and have endorsement deals with some great companies. I would like to thank Gretsch Drums, Gibraltar hardware, Vater percussion, Fulmine drumming shoes, and Hansenfutz practice pedals. Not only do these companies have great products, but they're also run by incredible people who care about musicians and our needs. Thank you so much for everything you do for drummers. Advertisement
So that's all. I hope to meet you all someday in the future. Keep on practicing and playing, and remember, be prepared for anything that may come your way!
Peace and love, Caitlin

For more on Caitlin Kalafus and Kicking Daises, go to www.myspace.com/kickingdaisies.