Vince Neil's Zoltan Chaney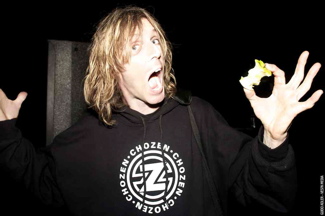 The main question I'm always asked is, "How is it playing with Mötley Crüe lead singer Vince Neil"? It's all been a positive experience, and to have this opportunity is something I'm very thankful for. Neil has been totally supportive of what I do and the energy I bring to the band. I can say that over the past three years of playing with him, he has never given less than 100% on stage, regardless of what the day has thrown at him. I believe that our desire to play music is our greatest common bond, and just as important is that we both make it fun!
We have a new CD just out, and all of the energy, enthusiasm, and live excitement got captured on the disc. I know that this CD has a lot of songs that will generate great responses and connect with fans that have followed his long career. The title of the new CD is Tattoos & Tequila, and it was recorded this past winter in Las Vegas. After two days of preproduction, we started tracking drums for twelve songs, which I finished over a three-day period. Not all of the songs made the final cut.
The kit I used on the recording is a custom Pearl Masters series 6-ply maple with a 18×24 bass drum, a 10×12 tom, and a 16×16 floor tom. The snare drum was my custom 6 1/2×14 Reference series 20-ply. For cymbals I used a mix of Zildjians—18″ and 19″ Z3 and Z Custom crashes, 14″ New Beat hi-hats, and an 18″ A Custom China. A 20″ Z3 medium/heavy ride is on all the tracks except for one song, which I used a 21″ Z Custom Mega Bell on. I used a mix of Aquarian and Remo drumheads. Advertisement
I'm looking forward to all the great summer shows in 2010, and you can follow our touring schedule on my website. (See below.) May each of you get inspired by all of the great drummers that are out on tour this summer, and remember why we started playing in the first place—FUN! Each time you play, you have the ability to make it a great experience.
If you're at one of our shows this year and see me before or after show, please don't hesitate to say "Hey!" I'd like to say thank you to everyone who chooses to buy a ticket and supports what we do. I also would like to thank my sponsors and Modern Drummer for making blogs, interviews, news, and events available worldwide so that the passion for playing can be shared! Being one of the "newer" drummers on the scene, I look forward to having many opportunities in the future and to share more great things with you. I am blessed louder than words!

For more on Zoltan Chaney, go to www.zoltanchaney.com, www.pearldrum.com/Artists/All-Artists.aspx?id=33, www.promark.com/community/profile/1432, www.chozenclothing.com, www.vinceneil.net, or www.zildjian.com/EN-US/home.ad2.