Simon Phillips: The Drummer As Perfectionist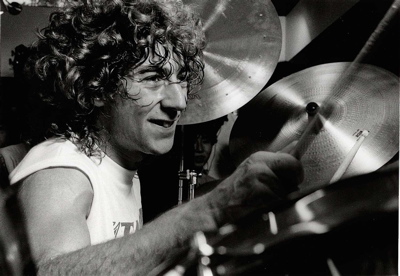 It was an exciting time for drumming. The year was 1980, and a twenty-three-old drummer from England, Simon Phillips, was being introduced to the global music community through his stellar work with artists such as Jeff Beck, Pete Townshend, and Jack Bruce, and on what seemed to be a ton of session work from a wide variety of artists. The buzz on Phillips was huge.
Here was a drummer who played with a precision, intensity, and groove previously unheard in rock music. Phillips' creative parts, incorporating all sorts of sound sources positioned around a massive kit, perked ears everywhere. That's when the legend grew: Who is this Phillips guy playing those incredible parts? Who's this kid tearing up that massive kit? Who's this fellow with the amazing feet?
Phillips' rise in status from solid sideman to world-class player was largely based on his astonishing ability to play advanced ride patterns with either hand. Simon's technique ushered in a new era of drumming, where the technical abilities of drummers were now evolving at the same rate as their musical sensibilities.
Of course, after that auspicious start, Simon's career was set to blossom—and it did. The '80s and '90s brought more important sessions with the biggest artists of the day, including Mick Jagger, Peter Gabriel, and the Pretenders, road work with legendary groups like the Who, and his own solo albums, which set a very high bar for drummers in terms of technically inspired playing and composing. Phillips' reputation as an expert studio engineer also grew at this time, as he began engineering and producing many of the projects he played on. Back at the kit, he continually thrilled drumming audiences with his remarkable clinic performances. The sky seemed to be the limit for the superstar drummer.
In 1992, Phillips' life made a major left turn when he received the call. Toto leader/guitarist Steve Lukather was on the line from LA, asking Simon to tour with the veteran band in the wake of the passing of drum god Jeff Porcaro. Intrigued by the possibility of playing with one of the all-time great American bands, Phillips moved to the States and joined Toto as a bona fide bandmember. Leaving his native England was a radical change—but, as he would later state, it was also "a rebirth."
In recent years Simon has continued to expand his playing, work with Toto, perform drum clinics all over the world (including the 2008 Modern Drummer Festival), and tour with a band featuring keyboardist Philippe Saisse (David Bowie, Dave Koz) and bassist Pino Palladino (John Mayer, the Who) in the instrumental trio PSP.