Ryan O'Keefe of Airbourne
G'day! I'm writing to you in the front lounge of our tour bus in Denver, Colorado.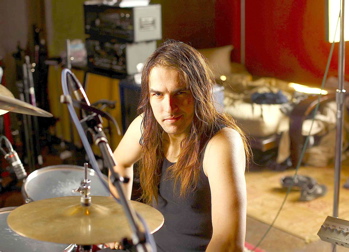 I have to be honest with you, I've always seen my role as a drummer as pretty simple—get up and do the best I can to complement the rock 'n' roll we play. Basically I'm the drummer for Airbourne because I don't trust anyone else with the job, for fear of bombastic drum rolls or showing off. I see the kit as more of a tool to get the job done. At the end of the day, Joel (my brother) does plenty of solos and stage antics that keep the crowd fully entertained for the duration of the show.
The album No Guts. No Glory was recorded in Chicago with producer Johnny K. We literally slept on futons in the tracking room in the studio. My bed was behind the drumkit, which made it quite easy to continue tracking even after a big night. Just get up and crawl to the kit. We had plenty of crazy ideas to help the sound of the record, like improving the guitar tone by drilling a hole through a wall and running the cable through it so that it was shorter, instead of running a long cable around the wall and into the next room.
We're currently touring the world behind No Guts. No Glory. We've been on the road now for five months straight and love it. We started in Canada in January on the Dead Of Winter tour with Mötley Crüe. It was great to be on playing every night to revved-up Crüe fans. After that we went over to the U.K. and Europe for two months to officially begin the No Guts. No Glory world tour. It was great to get out in front of all our rockin' friends again. Plenty of beer and good times every night, all finishing up in April.
For all of May we toured the States with Bullet For My Valentine, with every show going down fantastically. At the beginning of June, we started the famous European June/July festival run across Europe. In August it looks like we'll be coming back to Canada for a headline tour, which looks to be an absolute ripper. In late August and all of September we'll be playing the Uproar Tour in the States, covering the whole country. October will find us back in our homeland, Australia, making it the first time we'll play there in over two years! Finally, in November and December, we'll be playing another very exciting Europe/UK tour.
2011 awaits!
Cheers,
ROK
For more on Ryan O'Keefe and Airbourne, go to www.airbournerock.com.