Pat Gesualdo: Developing Drumming Milestones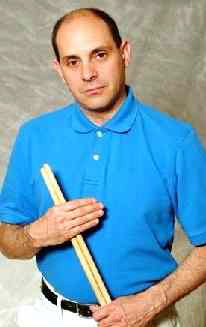 Numerous psychologists, medical doctors, occupational therapists, behavioral therapists, physical therapists, and school teachers throughout the world are certified drum therapists, and use Drum Therapy to help children and adults manage the effects of a number of disabilities. The D.A.D. Program's Drum Therapy curriculum and the techniques featured within it are used to establish therapeutic increases in the special-needs population. So, too, should different teaching methods be used by drum instructors to help mainstream students achieve success.
All students, mainstream or special-needs, should achieve milestones in their lessons. However, this is easier said then done, especially since there are issues that often block students from reaching success, such as non-motivation and lack of trust in the drum instructor. Any of these issues will without a doubt impede a student's success.
Drum instructors and drum therapists must continue teaching drum lessons and Drum Therapy sessions with these problems in mind, otherwise these issues will negate success for mainstream students and the therapeutic alliance for special-needs students. If not, the students and patients become bored and disinterested in drumming. Advertisement
Mainstream students will also lose interest in drumming when the drum instructor is too rigid and intentionally or otherwise concentrates too much on the technical aspects of drumming during the drum lesson. Focusing too much on playing rudiments, working with a metronome, or practicing reading exercises for most of the lessons can cause students to lose interest in drumming very quickly.
Another potential hindrance to success for a drum student is parents. Sometimes a child will simply want positive feedback from his or her parents, which they might not get at all. Other times, parents can get in the way of the lesson itself by sitting in on it and then trying to take control of the student by constantly correcting them.
As you might have already experienced, sometimes parents use drum instructors as babysitters. When this happens, a student can begin to hate lessons, because the parent is forcing participation when the student has no genuine interest in the drums at all. You can usually tell when this happens, and if it does, you need to try to make your time together as fun as possible. Advertisement
Meddling parents can be especially disruptive to Drum Therapy sessions when they feel the need to try to help the drum therapist. Drum therapists are trained to have a discussion with parents when this type of situation occurs, to explain how their involvement can cause their child more stress than necessary. If you experience a problem with a parent becoming too involved in your student's lesson, ask him or her if you could teach the student alone for at least one lesson, because you have noticed that it is difficult for the student when they are there.
The lessons themselves can block students from achieving drumming milestones, such as expanded coordination and retention. If you see that the student is having difficulty understanding the lesson material or is having trouble with the same topic over two lessons, start right from the beginning of that specific topic again, or from that specific section of the instruction book, as soon as you notice this. If the problem continues, stay on that topic for an entire lesson, or for several lessons, and see if the student can grasp the context of the topic that way. When the student does finally understand the context of what you are teaching them and can play it correctly, move on to the next related topic slowly, and expand the lesson plan from there, in the same manner. This will help a student to play more difficult rhythms and patterns easier, and as a result, reach drumming milestones faster.
As always, please feel free to contact me at info@dadprogram.org with questions or for further information on becoming a certified Drum Therapist.
Pat Gesualdo is an award-winning drummer, author, and clinician who has performed and recorded for various Columbia, Warner Brothers, Atlantic, RCA, and Paramount Pictures artists and special projects. He was nominated to Who's Who In America and was an associate voting member for the Grammy Awards. He is the author of The Art Of Drum Therapy. For more on Gesualdo and the D.A.D. program, go to www.dadprogram.org, www.myspace.com/dadprogram, www.zildjian.com, or www.myspace.com/patgesualdo. Advertisement