Giann Rubio of Blue For Sin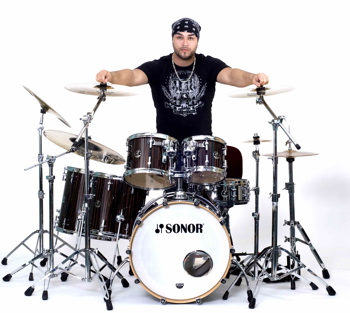 Hello, fellow Modern Drummers! My name is Giann Rubio, and this is my first blog entry ever! I'm sure there are some of you who haven't heard of me, so I'll bring you up to speed.
I was born and raised in Miami, Florida. I started my musical journey at eleven years old playing guitar. I always enjoyed writing on guitar (and still do), but at age thirteen I got a chance to play on a kit, and I've been hooked ever since. I am twenty-five years old now and have had quite an adventure so far—and I'm ready for more!
I am currently endorsed by Sonor drums, an amazing company that simply builds the best drums. I'm also the permanent drummer for an emerging band named Blue For Sin, currently being produced by the legendary Paul Trust. I have also been lucky to be part of various other musical projects. I was one of two drummers on Aghora's sophomore album, Formless, alongside the one and only Sean Reinert (Cynic, Death). I can also be heard on Solipsism, the sophomore album by Left Brain, one of New Mexico's most intelligent metal bands. Band members Mike Clifford and John Allen have outdone themselves, and with sound engineer Sid Garcia of Sight16 studios at the helm, you're sure to have a dynamite album!
Hopefully this blog is the first of many, so I can't let it all out of the bag!
Take care, and keep drumming.
For more on Giann Rubio and Blue For Sin, go to www.BlueforSin.com, www.SonorUSA.com, www.LeftBrainband.com, www.PaulTrust.com, or www.Sight16studios.com. Photos by Andres Belloso and Joe Gonzalez.