Earl Palmer: An Original, By Any Measure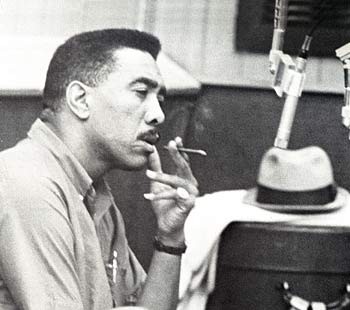 If you said that Earl Palmer is famous for being the most recorded drummer in history, you wouldn't get too many arguments. But you'd also only be telling half the story.
As house drummer at Cosimo Matassa's J&M Studio in New Orleans in the 1950s, Palmer played on some of the most popular recordings of the crucial time period when jazz morphed into R&B, and then into rock 'n' roll. Through the recording of such hit songs like Fats Domino's "Fat Man" and Little Richard's "Lucille," Palmer is recognized as the creator of the backbeat that continues to drive the popular music of today. If there were a Bible Of Rock, and it had a chapter called "Genesis," the main characters would be Fats Domino, Little Richard, and the great Earl Palmer–led rhythm section that helped shape their music—and guide the direction of rock 'n' roll for decades.
In 1957 Palmer moved to Los Angeles to broaden his horizons and to try his hand at the growing studio scene there. Though he was already a bona fide star from his work in The Big Easy, Earl wisely took lessons to hone his chops and help him adapt to the California studios. That studying paid off, as Earl was embraced by the L.A. studio movers 'n' shakers not only for his killer grooves, but for his ability to quickly supply what was needed in any number of musical settings.
Earl recorded a startling number of records in the '60s and '70s. His playing included not only pop hits for groups such as the Beach Boys and the Monkees, but also blues cuts with B.B. King, jazz sessions with Dizzie Gillespie and Count Basie, and gigs with the great crossover singers of the time like Frank Sinatra and Barbra Streisand. Earl also supplied the rhythmic backbone to a breathtaking number of TV and film soundtracks. Earl's first-call status even extended into the next generations of rock stars, like the Byrds, Neil Young, and Elvis Costello.
In 2000 Palmer became one of the first session musicians to be inducted into the Rock and Roll Hall of Fame. He died on September 19, 2008.