David Beck of Stealing Heather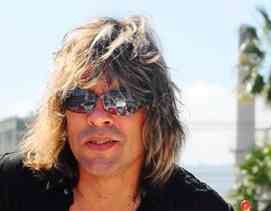 I've always seen Modern Drummer as an organization with its finger on the pulse of the rhythmic world. As such, I was thrilled when they asked me to share my thoughts, and my story, with all of you.
For those who don't know me, my name is David Beck, and I am the drummer for the Los Angeles–based pop rock band Stealing Heather.
Playing drums has always been a passion of mine, starting when I was just five years old, jamming with my dad on old ragtime tunes he would play on the piano. Having my father as a musical influence really set the course for my future. My drum playing quickly grew into an obsession to make it in the music biz. I practiced constantly. Looking back, I really can't believe how much I practiced, but with that work came some amazing rewards. I've been fortunate enough to share the stage with bands like Cheap Trick, Tesla, Queensrÿche, Lynch Mob, Sponge, Dokken, Ace Frehley, and of course the great guys in Stealing Heather.
Tama drums have always been a favorite of mine, and now that I think about it, they're the only drums I've ever owned. I'm now playing a set of Star Classics that I bought from Aretha Franklin when I was in Detroit. She did a show and then sold them to me for an unbelievable price! I guess timing really is everything. Advertisement
Speaking of timing, one thing I cannot stress highly enough is how important it is to learn to play to click. Sure, it's great to "feel" the beat, but when it comes to performing and keeping the band nice and tight, playing solidly to a click is where it's at, at least for me and some other great drummers I know. Being solid is much more important than speed or "flash."
Whatever your preference, to those of you just starting out, my best advice is to make sure you're comfortable behind the kit. My comfort drum sizes are a 22″ kick, 61/2×14 snare, 14″ and 15″ rack toms, and 16″ and 18″ floor toms. I play Paiste Signature series cymbals and prefer the dark even tones they bring to life.
So of course I've got to sum this up with a shameless plug for our new album, Your Mistake. We released it exclusively on iTunes for the first couple of months, and you can grab it up now. You can also check out our Web site, www.stealingheather.com, where you can sign up for the fan club to gain access to exclusive content. We're always updating the site, and the fan club is how we can keep in touch with all of our fans around the world. Advertisement
Take care and keep hitting the skins!