Chad Sexton: Tying Together 311's Collage Of Sound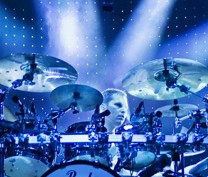 Chad Sexton anchors 311's prog- and reggae-influenced rock with tight hi-hat/snare/bass grooves and throbbing half-time rhythms. While 311 can technically be classified as an alternative rock band, their style encompasses elements of funk, rap, metal, ska, and jazz. For a complete musician like Sexton, however, this blurring of genres poses no challenge.
Sexton grew up in Omaha, Nebraska, and went to high school with 311 rhythm guitarist/lead singer Nick Hexum and guitarist Tim Mahoney. Before 311 formed, Sexton played marching snare with the Railmen drum corps in Omaha and then in the Sky Ryders drum corps in Hutchinson, Kansas.
311 released their first major-label album, Music, in 1993, and hit the road in a beat-up RV borrowed from Sexton's father; the RV towed a Volkswagen bus containing their equipment. While driving up a steep hill en route to Omaha, the RV caught fire, causing the band to jump through flames to escape the vehicle. All their possessions and equipment were lost, but the band soldiered on, playing borrowed equipment for the rest of the tour. Advertisement
In 1995 311 hit the mainstream with the release of their self-titled album, usually referred to as The Blue Album. Behind the strength of the single "Down," it went triple-platinum and solidified 311's place in the alternative rock pantheon. The band's ninth studio album was released in 2009.
On March 11 of every even-numbered year, 311 plays a massive show. Their most famous 3-11 Day performance, a sixty-four-song set from New Orleans in 2004, was released on DVD and certified platinum.