Bobby Deitch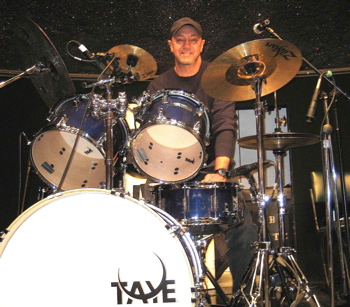 Hey, Modern Drummers, this is Bobby Deitch. I grew up in Syosset, Long Island, N.Y., and started playing at around eight years old. Drums have been my life. I performed in several rock bands in high school and then attended Berklee College of Music in Boston, Massachusetts. During my years at Berklee I was very fortunate to have met and performed with many incredible musicians. Though I became interested in jazz at an early age, my concentration began to switch to funk and R&B music. Back in the 1970s I performed seven nights a week with an incredible funk band throughout the Boston area. During this time I met my wife, Denise, a fellow student at Berklee, and also a drummer!
Years later my focus veered away from drums to concentrate on songwriting and producing. I also became an educator, teaching in public schools and privately. I'm now a professor of music at S.U.N.Y. Rockland in Suffern, New York. In the past few years I have rediscovered the drums and love them more than ever. A major inspiration has been my son Adam (Average White Band, John Scofield, Wyclef Jean, Lettuce, Break Science, 2010 Modern Drummer Fest), who is having an illustrious career as a drummer, producer, and songwriter.
I'm currently performing as drummer and musical director with an awesome band that pays tribute to the music of Ray Charles. Members of the band have toured and/or recorded with artists such as Ray Charles, Alicia Keys, Christina Aguilera, Prince, and Stevie Wonder. Ray's music is wonderful to perform from a drummer's perspective because his music covers such a wide variety of genres, such as blues, R&B, country, and jazz. The band performs in the New York metropolitan area at venues such as B.B. King's Blues Club & Grill and at Jazz At Lincoln Center. Advertisement
I am also the author of an unconventional drum instruction book, The Drummer In You. The book (available at Amazon and Barnes And Noble) teaches beginning and intermediate drummers to play rock, R&B, and funk beats without rhythmic notation. To do this I adapted the idea of tablature to the drumset. Several well-known drummers, such as Peter Erskine, Terry Silverlight, Luther Rix, Clint DeGanon, and especially my son Adam, have endorsed the book.
Thanks so much for taking the time to read my blog. I'm always happy to answer questions and hear comments from you with regard to drumming and songwriting.
Thanks, and keep the funk alive!
Bobby
For more on Bobby Deitch and Forever Ray, go to www.foreverray.com.