Jason Aldean's Rich Redmond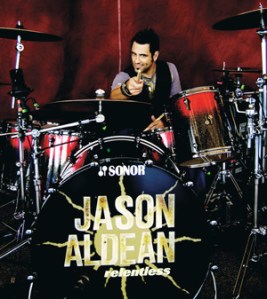 Channeling AC/DC's Phil Rudd, Jason Aldean's Rich Redmond drives a top-flight country band that's all about rocking three-chord riffs. Here, some of Redmond's close musical associates provide insight into his unique talents.
"Rich is a beyond a solid drummer, with a huge showmanship factor that's very hard to find. People respond to the energy he's putting out there, and I feel like he's my secret weapon.
"I used Rich way back when, on all my publishing demos when I was signed to Warner Chappell music. He is able to be creative and captivating within the tight time constraints we usually have in Nashville. He gets in there and gets it done with a smile on his face. Rich literally helped create my sound along with his bandmates Kurt Allison and Tully Kennedy.
"Rich never 'mails it in.' I've never seen him have a bad night. I know exactly what I'm getting every night: a guy who rocks hard, drives the band, plays from the heart, and loves his job. We've been friends for a long time. His passion for music and drumming is evident. He always plays at a high level and never lets himself off the hook. He drives my band! His consistency is the key to his success. The truth is, more and more people are getting wise to Rich's drumming, and I don't want to share him!"
Jason Aldean Advertisement
"Rich plays in the studio like he's in front of ten thousand people. It's hard to find energy like that in a drummer who also has the studio abilities you need to record a competitive product."
Michael Knox (producer, Jason Aldean, Trace Adkins, Chuck Wicks)
"There's never been a question of Rich's technical ability on the kit, but what separates him from the rest of the pack is his musical frame of mind. He always plays with a melodic sense. He plays for the song, not against it, and not for personal gratification."
Kurt Allison (Jason Aldean guitarist, 3 Kings rhythm section)
"I've been enlightened by Rich's ability to weather the highs and lows of the music business. There's a certain something that Rich has been given from the high heavens. It's mind-blowing to watch him in action on stage. He has passion; he gives his all to everything he does in this life. Rich has handled his dream of becoming a great drummer by believing that he is a great drummer—and he is."
Emily West (Capitol Records recording artist) Advertisement
"Rich plays like a guy in a band, has great internal balance of his drumkit, can pound the hell out of it, yet still manages to retain great feel. Rich is also a terrific percussion player, be it the usual shaker and tambourine or swishing a brush on an old analog tape box. He's a great drummer to work with professionally, creatively, and sonically—a real treat."
Peter Coleman (engineer, Jason Aldean, Rodney Crowell, Blondie, the Knack's "My Sharona")
"I get to play with Rich every day, and as a bass player I couldn't ask for anything more. I've made awesome music with Rich on the road and in the studio for the past ten years. I've never heard a drummer wrap his part around a vocal like Rich does. He has an amazing sense of melody. It's an effortless relationship, and he really does amaze me every day."
Tully Kennedy (Jason Aldean bassist, 3 Kings rhythm section)