Kevin Hogle of 500 Miles To Memphis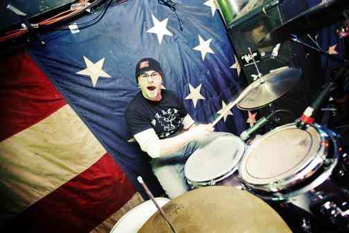 What's up, MD readers! Thanks for taking the time to read this blog entry, and a huge thanks to Modern Drummer for giving me the opportunity to do so! My name is Kevin Hogle, and I play in a band called 500 Miles To Memphis. We hail from Cincinnati, Ohio, and just released our third full-length CD, We've Built Up To NOTHING. We are currently about two months into a U.S. tour that has over 200 performances scheduled—and that is business as usual for 500 Miles To Memphis.
I started playing the drums around the age of eleven. I wanted to join school band, and drums were the first instrument that caught my attention. I got my first drumset in seventh grade and started learning songs from bands that I was listening to, like Black Sabbath, Led Zeppelin, and Iron Maiden. I knew then that I wanted to play drums for a living!
When I graduated high school, I wanted to take my love for drumming to the next level. In the fall of '95, I went to Morehead State University in Morehead, Kentucky, and there I studied under professors Frank Oddis, Todd Wright, and Greg Strouse. At Morehead I studied orchestral, marching, and many different styles of music from jazz to rock, and had the opportunity to perform in Beijing, China, at the Central Conservatory of Music and at famed Beijing Concert Hall. I graduated MSU in 2001, with a bachelor's degree in music education, and have committed myself to giving private instruction from elementary school levels to high school, and have done so for nearly ten years. Teaching others drives me to enhance not only my own skills but also to share my experience with younger percussionists. Advertisement
Some of my favorite drummers that I have listened to and studied over the years, and who have helped me shape my own musical style, are Peter Erskine, Dave Weckl, Steve Gadd, John Bonham, Stewart Copeland, Josh Freese, and Dennis Chambers. Disciplined practice of their styles has allowed me to form my own style and approach to drumming, and that has allowed me to perform, tour, and record with artists in several different genres.
In 2003 I joined EMI/Virgin artists Moth, and we released the album Drop Deaf in 2004. Drop Deaf was distributed through a few online outlets and the band's Web site. Moth toured the U.K. to promote the album and headlined the Create Music Festival in Ashford, England.  In 2005, A&R executive Todd Sullivan asked Moth to be the first band to be signed to his new label, Hey Domingo! Moth were the featured artist on MySpace in November of '05. Immune To Gravity was recorded at The Mouse House in Altadena, California, and released nationally on March 26, 2006. During a Moth hiatus, I performed a couple of tours with fellow Cincinnati artists Foxy Shazam, who were later signed to Warner Bros. I have also played with blues artist Kelly Richey, Soul Pocket, progressive rockers Acumen, heavy metal band V-Mob, and the Russ Morgan Orchestra. I have had the opportunity to experience performing and recording with respected artists in just about every genre possible.
The crown jewel to date is 500 Miles To Memphis. Joining 500 MTM enabled me to tour and record with one of the finest alt-country/punk bands in the country. Our commitment is to continually challenge ourselves musically and creatively—writing, recording new songs that (hopefully) attract new audiences—while still being meaningful to fans who have been with us from the start. Advertisement
Our second album, Sunshine In A Shot Glass, garnered critical success nationally and internationally, and was produced by Erwin Musper, who has received multi-platinum honors for his production/engineering work with artists such as the Scorpions, Van Halen, Elton John, David Bowie, Def Leppard, and Jeff Beck. The new album, We've Built Up To NOTHING, also produced by Erwin, is currently being shopped to record labels in the U.S. and internationally. Working with a professional of Erwin's caliber is always creative, professional, and energizing. We consider working with him to be one of the greatest gifts to come our way.
Once again, I want to express my heartfelt thanks to Modern Drummer for giving me the opportunity to communicate with fellow readers. I look forward to hearing from fans of Modern Drummer via any of our links below.

For more on Kevin Hogle and 500 Miles To Memphis, go to  www.myspace.com/500milestomemphis, or www.sonicbids.com/500milestomemphis.