Justin Peroff of Broken Social Scene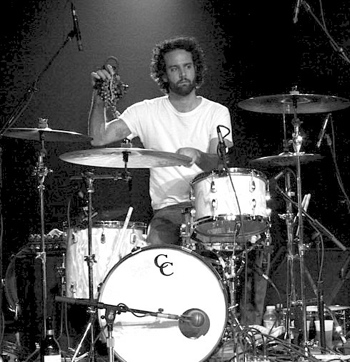 Hello, Modern Drummer readers. Justin Peroff here, drummer for Broken Social Scene. Since meeting BSS de facto leader Kevin Drew fifteen years ago, I have been involved in the many versions of what the Broken Social Scene collective has been. Amongst other things, it has been an exercise in musical dynamics. Broken Social Scene tends to have a revolving door of contributors from all walks of musical life. Being the drummer, I've had the pleasure and challenge of communicating with all of these musicians in songwriting, in creating song structures, and in the live setting. These are all very different things.
Songwriting can begin in many different ways, whether it's a jam that happens during soundcheck or a song that has been brought to the band after being crafted by one person at home in their bedroom. However it was created, when a song is brought into the studio, a number of things happen. Normally a bare-bones track of the core members is performed and recorded as a band (bass, drums, vocals, guitar) followed by contributions by several other musicians. I suppose this would be considered subtle sonic texture. I then communicate with that subtle texture with my own percussive texture. This could be in the form of doubling my entire drum part with a different-sounding drumkit in a different-sounding room; writing and recording a different drum pattern altogether that complements my other drum part and the rest of the contributing parts; playing traditional percussive accents like shaking a shaker, playing a tambourine, or clapping my hands; or fun stuff like doubling a snare part by shaking cutlery in a frying pan, banging a ladder, or slapping the side of a piano.
One percussive element that made a larger presence on our new album, Forgiveness Rock Record, as opposed to previous work, was the use of electronic drum textures. While touring our self-titled record from 2005 to 2007, I used an old Tama Techstar drum console for one part in one song, "Hotel." It's an awesome device that operates and sounds very much like the Simmons SDS 8, but it was too bulky and fragile to tour with. I ended up purchasing the Roland SPD-S drum machine/sampling device in its place. After touring with it for a few years I ended up incorporating it into pre-production for the new record. Being many drum machines in one device, it's incredibly versatile. It can be an 808, like on the song "All To All." It has dirty distorted drums, as used for "Chase Scene." We also use one of its many percussion settings live to beef up the percussion section on songs like "Love Is New." The possibilities are endless on this thing. I have since seen many drummers using it in their live setup. The machine also has a MIDI output, which gives you the option to personalize all of the presets when recording with it—which, naturally, we do. Advertisement
We captured and altered all of the sonic splendor on Forgiveness Rock Record with the help and magic touch of drummer and producer extraordinaire John McEntire. John is the drummer and producer for bands Tortoise and Sea And Cake. His production resume now includes us as well as many others before us. This guy is one of my drumming heroes. It was a great pleasure to work with him.
One of the new challenges I will face in the several touring months ahead is drumming along to the MIDI tracks that I discussed above via in-ear monitors. Some tracks involve a click, others don't. The signal is coming from a Pro Tools set up in the keyboard world of our stage gear, to our monitor engineer, and then to me. There was talk of bringing a Korg D888 on the road in order for me maximize personal control over the playback. I'm in the process of reading the manual. Looks like the proper machine for the cause. More on that as we oil our gears on this next chapter for the BSS.
So as you can see there's never really a dull moment for me in this clan. It's a constant role of controlling and anchoring the chaos. I feel like I've only scratched the surface. And as it turns out, for the days of Forgiveness Rock Record, we've only just begun. Advertisement
Until next time.
JP
For more on Justin Peroff, go to www.brokensocialscene.ca. Justin uses C&C drums, Istanbul cymbals, and Vater sticks.