Vinson Valega: New York City Jazzer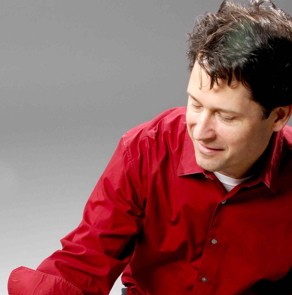 Hey there, MD readers! Thanks so much for checking out this blog entry. I'm happy to give a big shout-out from the New York City jazz scene, which is still going strong and attracting the most amazing musicians from all around the globe. I've been here since 1990 and have seen many changes take place over the years, that's for sure. But if there is one constant than never wavers, it's the fact that the spirit of this music is strong and healthy and continually inspiring.
I grew up in Maryland, outside of Washington, D.C., took piano lessons from age five to eleven, switched to drums in the sixth grade, and never looked back! I played all through high school and college, but it wasn't until I came to New York and studied full-time at The New School in the early '90s (Marvin "Smitty" Smith, Lewis Nash, Kenny Washington, Vernel Fournier) that I really acquired the chops to become a "real" musician. By that, I mean all of the composition, ear training, piano voicings, theory, etc. that one needs in order to really understand what's going on in this music (not to mention the non-stop shedding we all do). Coupled with all the great live performances happening at the time, you could still learn the language of jazz directly from its creators. Some of the master drummers I had the opportunity to practically sit next to—and learn from—as they played include Max Roach, Art Taylor, Elvin Jones, Tony Williams, Billy Higgins, Ed Thigpen, Mel Lewis, Vernel Fournier, and Rashied Ali, to name only a short list my heroes who are no longer with us. It was an amazing time, and in many respects it still is, with so many living legends coming through this town (and many still residing in the area).
In addition to teaching and playing on the freelance scene here, I've been committed to getting my music out as a leader over the past ten years. I just released my fourth CD, Biophilia, and have been presenting this new sextet music since last fall in various venues around town, with the big CD Release Party happening May 1 at Small's jazz club in Greenwich Village. All of my CDs have been released on our nonprofit label, Consilience Productions, which was created to both promote the music and to emphasize another important part of my life—activism and social change. Our tagline is "Dialogue BEYOND music!" and we are committed to our mission of "Live Jazz for Social Change." Essentially, what we are doing is taking America's only true art form—jazz—and using it to help motivate and inspire our fellow citizens to get involved with issues of the day. In the process, we are expanding the jazz audience by bringing the music to the uninitiated while at the same time helping to make the world a better place. In fact, there is a long line of activists in jazz, stretching from Louis Armstrong to Dizzy Gillespie (who actually ran for President in 1964!) to John Coltrane, and my fellow musicians and I are proud to be part of that lineage. Advertisement
Jazz is a unique American art form that continues to inspire and to change, both from within and as an influence on our society. Check out our site to listen to the music, learn about what we're doing, join the conversation, and most importantly, to "Get Involved!"
Thanks for taking the time to read this!
Peace.

For more on Vinson Valega, go to www.cslproductions.org. Check out videos of Vinson's bands at www.youtube.com/VinsonValega. And read Vinson's essay "Get Involved!" here: www.allaboutjazz.com/php/article.php?id=23378.